Lakes and ponds define my family's best memories. My father passed his childhood summers on Maine's Damariscotta Lake, and we still spend as many weekends as possible on Maine shorelines.
Creating textiles and garments intertwines memories with the yarn itself, causing bursts of remembrance whenever I see, touch, or wear my projects. After a summer trip to Maine, I wanted to make something that would keep the visions of these lakes—and my family—fresh in my mind's eye, even though I now live far away.
I decided to create a series of three knitted panels, using embroidery for details, that would act as fiber windows onto these important landscapes.
Precedent
Fiber artists have a long history of reflecting surrounding landscapes in their textile designs, and I am inspired by their creativity and techniques. Stitched samplers represent scenes close to the stitcher's heart. For example, Mary Antrim created an elaborate sampler in 1807 that illustrates a stately home, complete with farm animals and someone riding a horse. In fact, this particular sampler is so well regarded that it sold for more than one million dollars in a 2012 auction.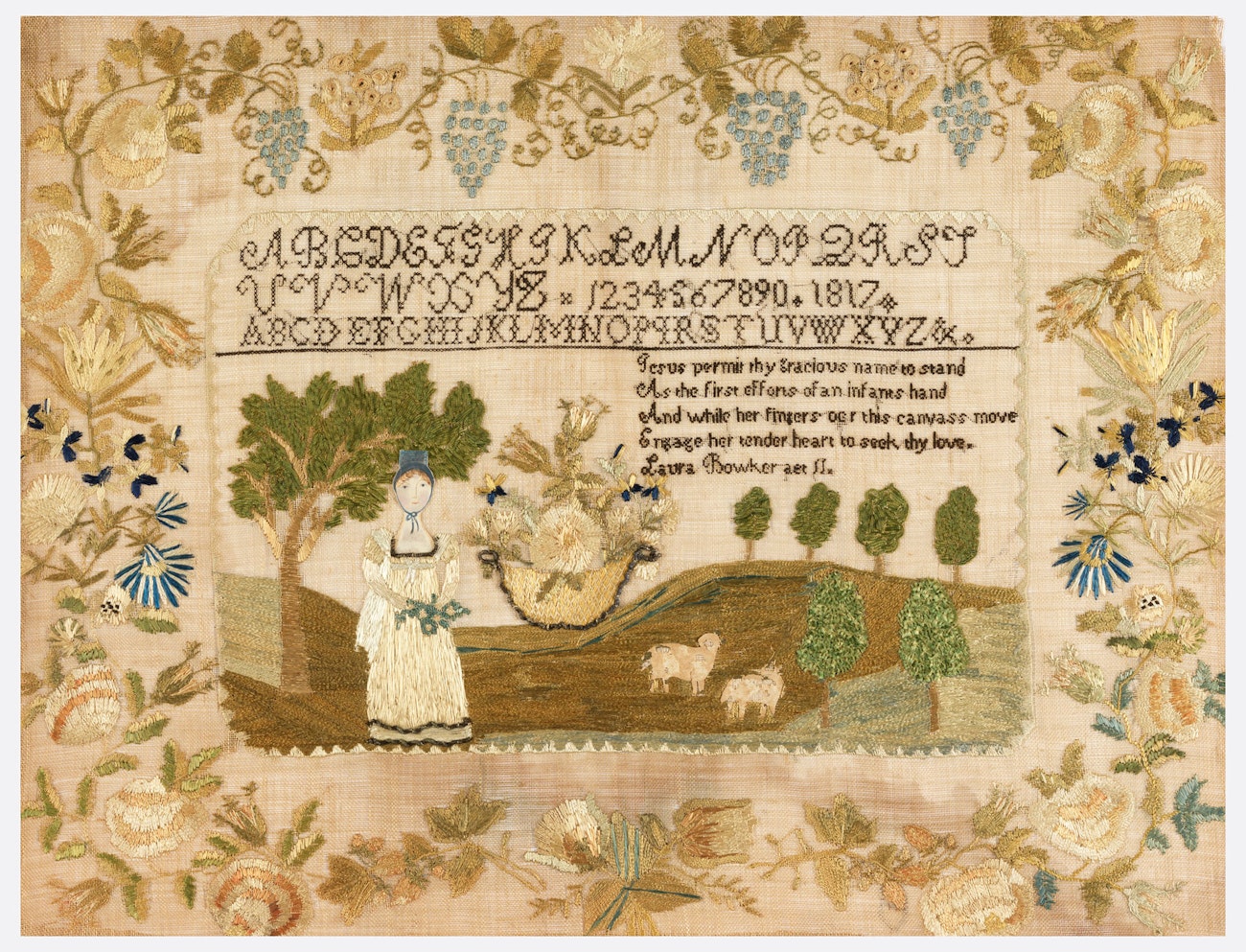 This embroidered sampler by Laura Bowker (American, 1805–1843), features a landscape within a deep vine border of flowers and grapes. The landscape includes a woman standing by a tree, sheep, and a large basket of flowers. Courtesy of Cooper Hewitt, Smithsonian Design Museum Collection; bequest of Mrs. Henry E. Coe, 1817
Latched rugs also rose to popularity in the nineteenth century, but as Virginia Churchill Bath explains in Needlework in America, "landscapes are rare and thus highly valued."
The rarity of landscapes didn't stop Lucy Trask Barnard from hooking a beautiful home situated between giant trees and looking across colorful flowers. Her fiber image is serene and peaceful, with the natural texture of a latched rug adding interest to the colors and overall design.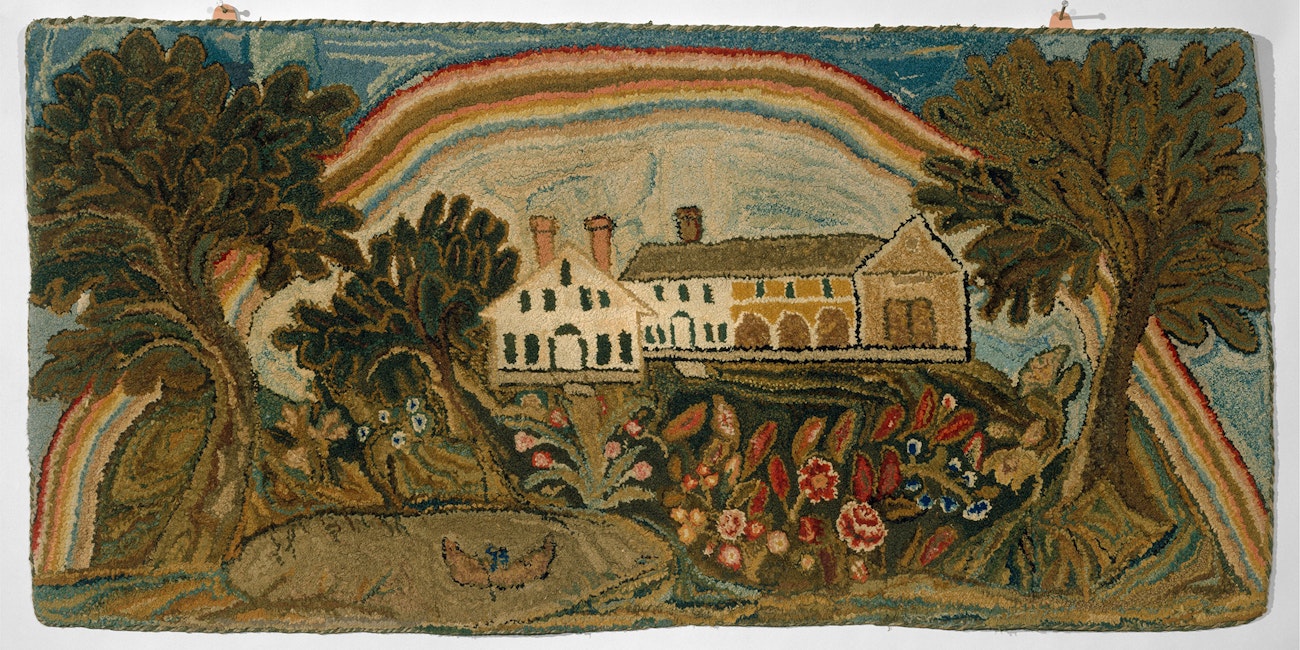 Hooked rug by Lucy Trask Barnard (1800–1896), ca. 1860. Courtesy of the Metropolitan Museum of Art, Sansbury-Mills Fund, 1961
Quilting, of course, offered a large canvas to reflect the people and places the artist knew best. In 1867, Lucinda Ward Honstain of New York created The Reconciliation Quilt. Her work depicts the end of the Civil War based on her own experience. "The three-block-wide appliqué at the quilt's center is a representation of her home in the Williamsburg section of Brooklyn," writes Robert Shaw in American Quilts: The Democratic Art. "Other blocks depict an African-American cobbler or bootblack and a black farmer and ice cream cart attendant, Zouave infantry soldiers in their pantaloon-and-fez uniforms, a sailor and anchor, a windmill, a three-masted ship in full sail, a woman riding sidesaddle, a caged bird, and a dromedary camel," he continues.
Maine Lakes Panels
I used aspects of all three textiles in my work, from my choice to use distinct blocks for each landscape, to the different embroidery stitches, to the fringed wool to illustrate grasses.
For the pond where my parents currently live, I used their garden as inspiration for the foreground, creating the illusion of grass using uncut velvet stitch, then flowers with French knots, followed by simple backstitch ferns and pine trees (center panel in photo at top).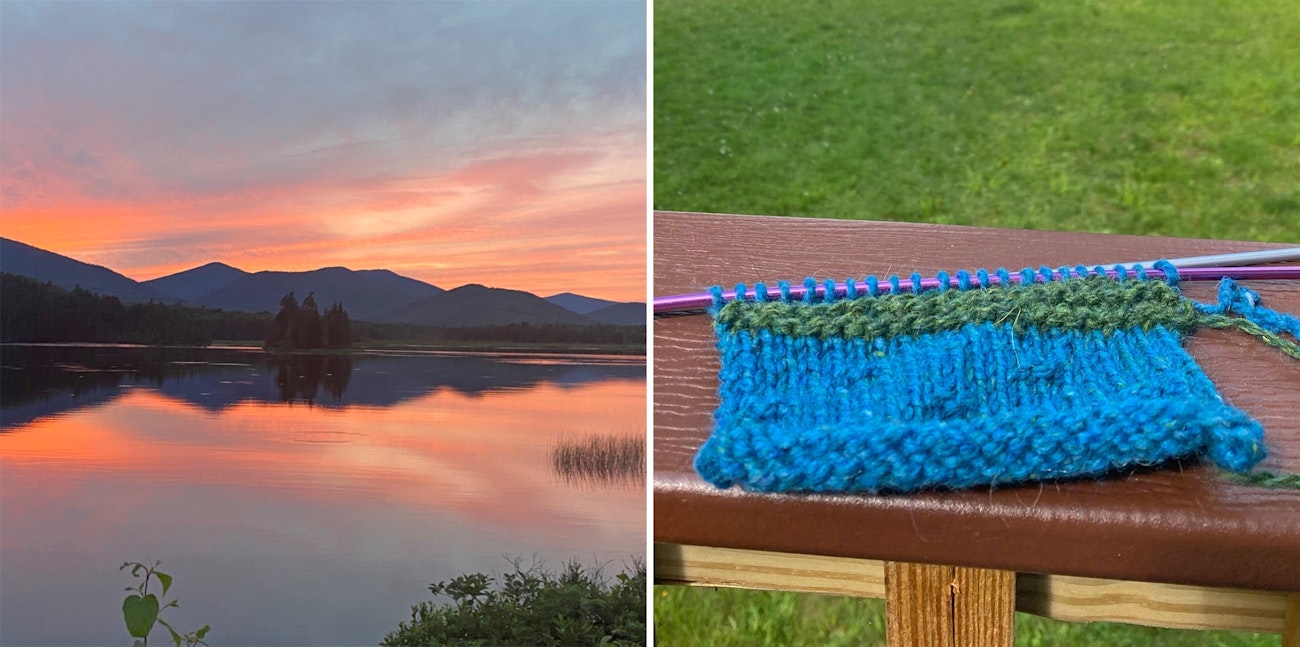 A lake in northwestern Maine (left) inspired one of the author's panels (right).
To depict a lake in northwestern Maine, I opted for a much simpler design. Raised knit stitches against a purled background create tiny waves, French knots become multihued trees at the edge of a dark-green mountain range in garter stitch. Embroidered clouds showcase the spectacular summer sunsets, magical in their colors and shapes (left panel in photo at top).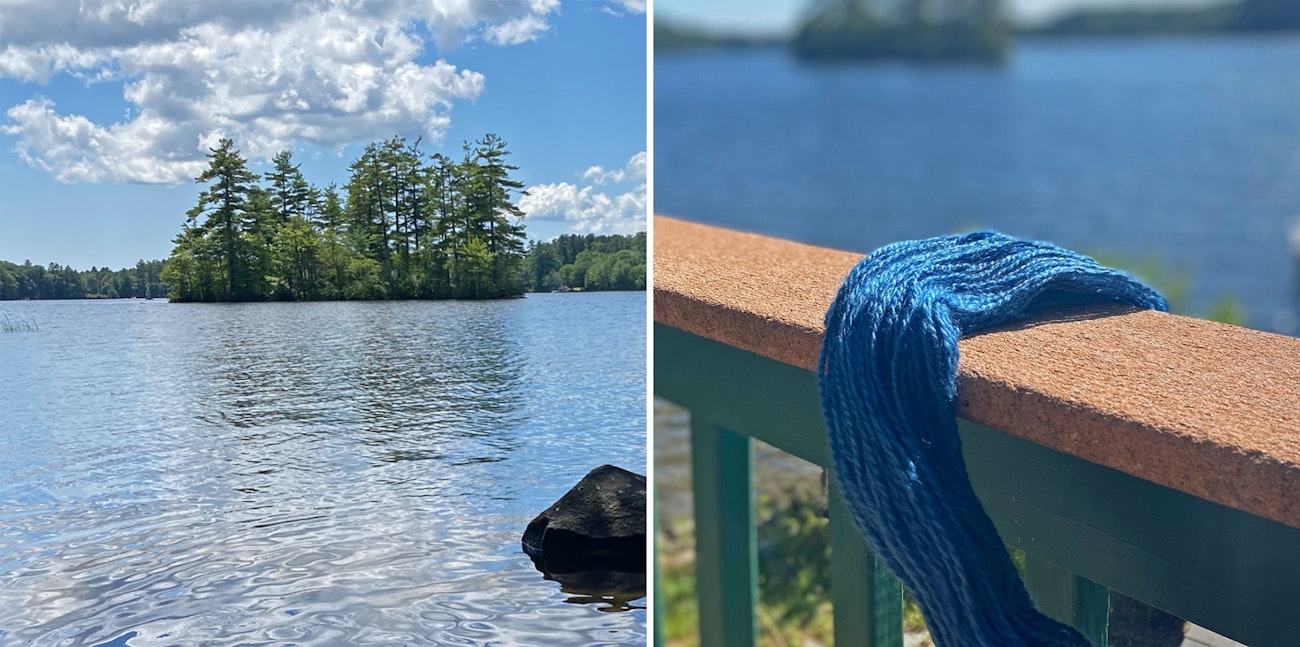 Maine's Damariscotta Lake (left), where the author's father spent his summers, inspired another panel in the author's series.
Last, but certainly not least, I knitted the Damariscotta Lake panel (right panel in photo at top). The island that sits in the middle of the lake acts as my focal point, completely embroidered using a combination of satin and backstitch.
In all three works I used as much yarn as I could from Maine companies, including Peace Fleece and Sheepscot Harbor Yarns. The latter I procured in Damariscotta itself, mere miles from the lake.
Erika Zambello, an environmental communications specialist, lives and works in north Florida. She is a strong proponent of spinning and knitting outside, working on her projects while walking, hiking, and exploring. Follow her adventures on Instagram @knittingzdaily.