Download the free pattern for the Expectation of Snow PDF in our library and get started knitting this beautiful shawl.
---
This shawl was inspired by the old Orenburg lace shawls knitted during the long winter nights and made of the finest and warmest goat down that can be found only in that part of Russia.
The traditional shawl designs used a limited number of basic elements. These smaller elements could be arranged to create a wide variety of patterns, allowing each knitter to express herself individually. The patterns were usually passed from mother to daughter and almost never written down, which made some Orenburg lace shawls treasured and unique pieces of art. Despite the popularity of this lace tradition in the eighteenth and nineteenth centuries, public interest in Orenburg lace knitting began to decline over time. Very few needlework artists still work in this technique today.
My interest in Orenburg lace knitting was first aroused when I came across a book written by Olga Fedorova. This famous Russian knitter had gathered many Orenburg pattern elements in her book and introduced me to the world of Orenburg shawls. In learning about Orenburg patterns, I remembered a shawl owned by my grandma that was also called "Orenburg" but had nothing to do with that technique. It was very warm, soft, and hairy—plain and simple, very old, and torn in some places, but do you really care or notice as a child? This beloved shawl was enough to just wrap myself in, and there you go: the child sleeps, and the grandma can finally do her chores.
She was a very hardworking woman, with deep wrinkles on her hands from the farm work she had done all her life. She treasured that fake Orenburg shawl, probably because it was so warm (and there was a lot of snow in my childhood) and also probably because she had never seen anything better.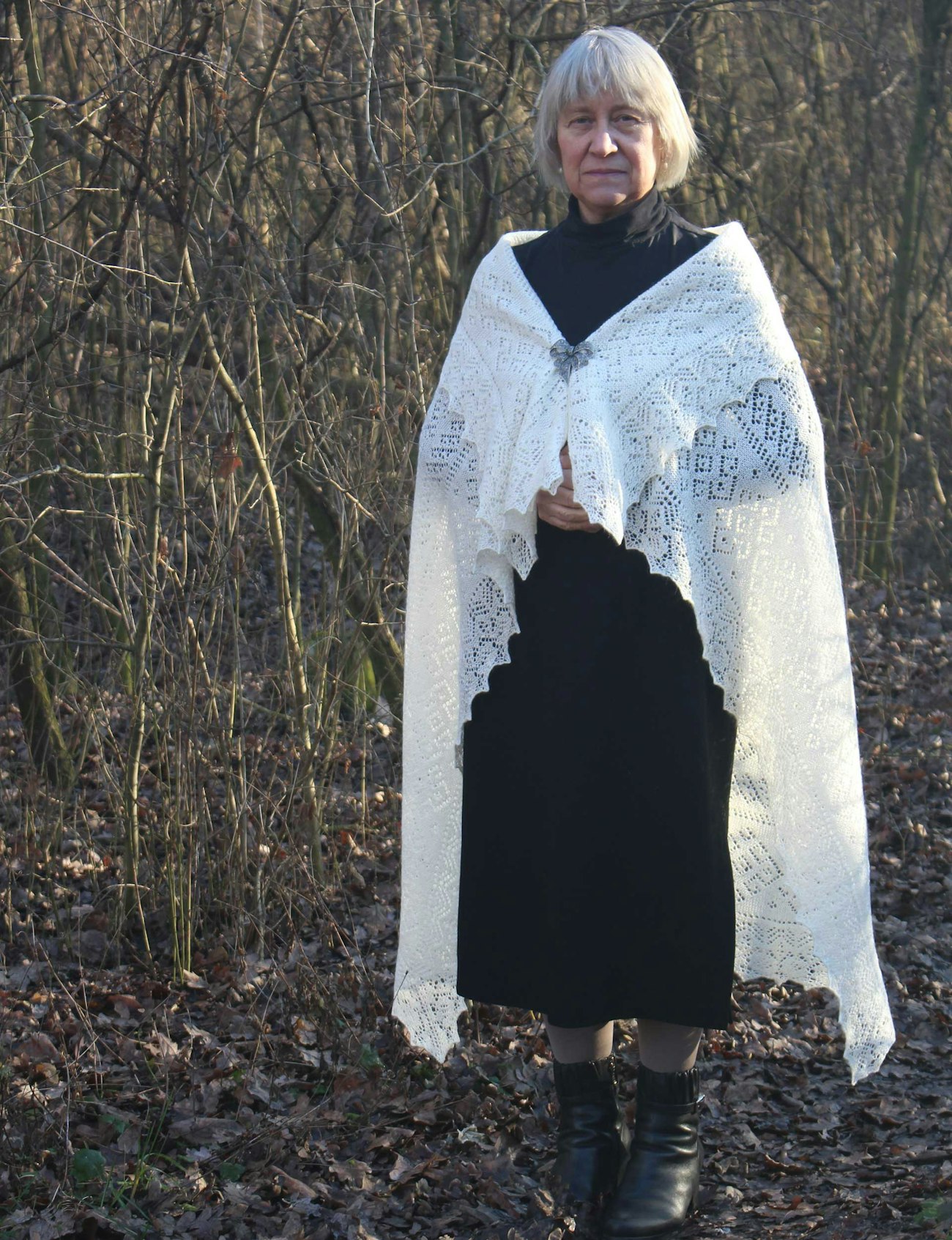 No man steps in the same river twice, so I knitted this shawl using some traditional Orenburg elements, but I developed my own patterns. For example, my own ideas and patterns are included in the border and lace edging as well as in the layout of the shawl body. I added beads, which is never done in classic Orenburg lace knitting. They are clear and nearly invisible, but they sparkle under sunshine or moonlight like the snow that filled my childhood many decades ago.
This shawl is an homage to my grandma, Olga, for whom I am named. This is the shawl she should have had but never did.
Olga Radchuk started knitting and designing relatively recently, but since birth, she has been surrounded by her mother and grandmother's handcrafted items. Under such circumstances, it was simply impossible not to inherit their passion for the art of handcrafting.
This article appears in PieceWork Spring 2022.
The Expectation of Snow: An Orenburg Shawl Pattern
The body of this stunning shawl is worked first. Then, live stitches from the top of the shawl remain on the needle, and stitches are picked up along the other three sides for the border. The border is worked in the round outward, with mitered increases at the corners.
Visit the PieceWork library to get your free download of the Expectation of Snow PDF.
Materials
Pehorka Orenburgskaya, 80% goat down, 20% Merino, laceweight, 430 yd (393 m)/1.76 oz (50 g) skein, 5 skeins of 166 Raw White
Needles, size 2½ (3 mm) circ 47" (120 cm), in size needed to obtain gauge
Additional 47" (120 cm) cable or second circ needle for holding border sts
Stitch markers
About 712 2 mm faceted glass rondelles with aurora borealis effect, optional
Steel crochet hook, size 12 (0.6 mm) for applying beads, optional
Blocking wires and pins
Tapestry needle
Finished measurements: 58" (147.3 cm) square, after blocking
Gauge: 28 sts and 28 rows = 4" (10.2 cm) in garter lace patterns from charts, after blocking.