Had you lingered over coffee in my mother's kitchen, circa 1950, you might have noticed her dish towels. Most were no-frills, hard-working types. A select few were beauty queens, never tasked with drying so much as a porcelain saucer, let alone a family-size saucepot.
These huck towels, which Mom had lovingly embroidered and sometimes edged with her own hand-tatted lace, were examples of the "show-towel" genre, so named because such towels are embellished—sometimes elaborately—with handwork and trims that showcase their maker's needlework skills. These towels serve no practical purpose more demanding than adding grace notes to kitchen décor or occupying a special shelf in the linen cupboard when they are off duty.
History
Huck embroidery was popular in America from the 1920s into the 1950s; by the 1960s, its popularity had largely waned. Because huck embroidery was worked almost exclusively on dish towels in the earlier years, the decrease in its popularity may have been precipitated, suggests Phyllis Maurer, an ethnic needlework researcher, by the advent of the automatic dishwasher. Nevertheless, huck embroidery did enjoy a modest resurgence late in the century, and an interest remains steady today.
Three vintage towels with designs worked in pearl cotton on both ends of premade cotton huck towels. The blue/yellow designs are worked on the single-float side of the towels; the peach design is worked on the double-float side of the towel.
Colorful, primarily geometric designs are worked on special fabric (huck) by sliding a needle, typically threaded with embroidery floss or pearl cotton, under raised pairs of threads (floats) that are characteristically woven into the fabric's surface in staggered rows that intersect the selvedges at right angles. These designs range widely, from simple zigzags to more complex peaks, lozenge shapes, and overall patterns comprised of straight lines, steps, swoops, and both open and twisted loops. Pictorial images can be created with multiple rows of open and/or twisted loops. Straight rows are sometimes used as filler for free-form shapes outlined in stem stitch; other embroidery stitches may be added as accents. The relatively low cost of materials is an asset equaled by the ease with which the technique can be mastered by stitchers of any age or experience level. Many a child has successfully learned huck embroidery in grade school, through scouting, or from a mom, auntie, or grandmother on a rainy afternoon. With all of the work completed on the front of the fabric, no tails, traveling threads, or unsightly backs of stitches are evident on the wrong side of huck embroidery, an advantage that eliminates the need for linings or other special finishing.
Many Different Names
To a greater degree than most other types of needlework, huck embroidery has different names in different parts of the world. Huckaback embroidery, huck weaving, and huckery are interchangeable in English. Also common is Swedish weaving, which should not be confused with true weaving or Swedish work, a technique for weaving braid, ribbon, and other narrow trims. The French know this embroidery technique as broderie suedoise (Swedish embroidery); Italian needleworkers refer to it as punto filza (running stitch). In Spain, the same type of needlework is bordado Yugoslavo (Yugoslavian embroidery) or punto de llama (flame stitch). Ponto oitinho (eight stitch) is the Portuguese name for a strictly pictorial version of the technique in which designs are composed of rows of figure-eight (twisted-loop) stitches. A similar type of Portuguese embroidery, ponto vagonite (vagonite refers to the ground fabric), employs all the traditional huck-embroidery stitches. Swedish darning is used occasionally because many huck embroidery designs resemble those of pattern darning. The difference is that the running stitches exclusively used in pattern darning are pulled through the fabric, whereas stitches in huck embroidery, although they, too, are essentially running stitches, are not.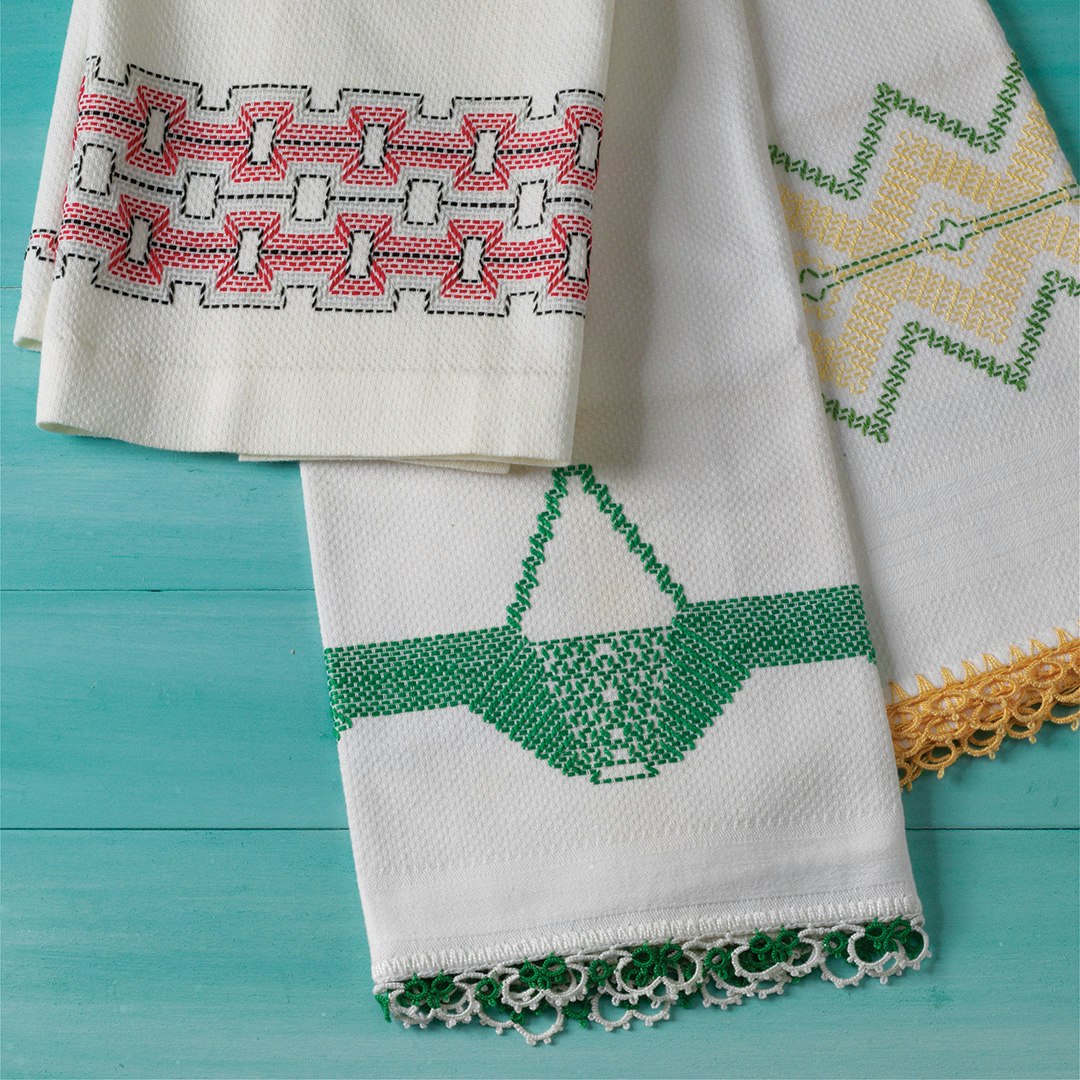 Towels made by the author's mother, Jean Polityka, circa 1950, with borders worked in floss and pearl cotton on cotton huck toweling, following patterns in Mildred V. Kreig's series of huck-embroidery booklets. Two towels are trimmed with lace hand-tatted by Jean Polityka.
According to the Oxford English Dictionary, the word "huck" first appeared in the English lexicon between 1680 and 1690. In 1915, the Dictionary of Textiles defined huck as "A thick, loose and soft cotton or linen toweling woven in birdseye or honeycomb patterns with very slack twist and low count weft forming long floats and a strong selvage." Huck, a dobby-weave fabric, can also be a blend of cotton and linen.
The precise origin of the fabric itself is unknown, although linguists cite evidence suggesting Germanic roots that may date as far back as the thirteenth century. The fabric's various names—huck, huckaback, huckabuck—do suggest words such as "hugaback" and "backpack" that evoke images of the peddlers who once traveled from village to village, cottage to cottage, shouldering packs laden with household wares, which presumably included fabric for towels. In Low German, an old form of German spoken throughout northern Germany and closer to Dutch than to standard German, such a person was a huckster (hokester in Middle Dutch), hence the hypothesis that places huck's origin in that area of Europe. Conjecture also points to northern Germany's proximity to Denmark (home to huckaback darning, according to Mary Thomas in her classic compendium Mary Thomas's Embroidery Book) and to Sweden, which may explain the alternate designation as Swedish weaving.
Standardizing Patterns
Over the years, needlework encyclopedias have given scant coverage to huck embroidery, often relegating information to little more than a definition of the fabric and perhaps a few words of instruction. Early on, designs were typically passed from embroiderer to embroiderer, generation to generation, or they were improvised and repeated as the stitching of a project progressed. That changed in 1936 when Mildred V. Krieg (dates unknown) published the first of her eventual series of five pattern booklets titled Huck Towel Patterns. All were sixteen-pages (including the paper covers) laid out horizontally. They measured 5¾" (14.6 cm) from top to bottom and 8¾" (22.2 cm) from the folded, stapled spine on the left to the opening edge on the right. Contents included a page of general information and concise instructions with thread data alongside each of the patterns, which were illustrated with close-up black-and-white photographs. All this cost the purchaser 15 cents. By the third booklet of the series, the price had skyrocketed to 20 cents, general information had moved from inside the front cover to the back of the booklet, and suggestions with brief, though adequate, instructions for adapting the patterns and making such items as sewing or knitting totes and baby bibs had been added. The fourth and fifth booklets featured monograms ideal for personalizing fingertip and guest towels or embroidering small strips of huck that could be appliquéd to pillowcases. Collectors can find these still-relevant booklets in vintage shops and online. A collection of Krieg's patterns has also been republished by Lacis Publications in a larger format paperback titled Huck in Vogue.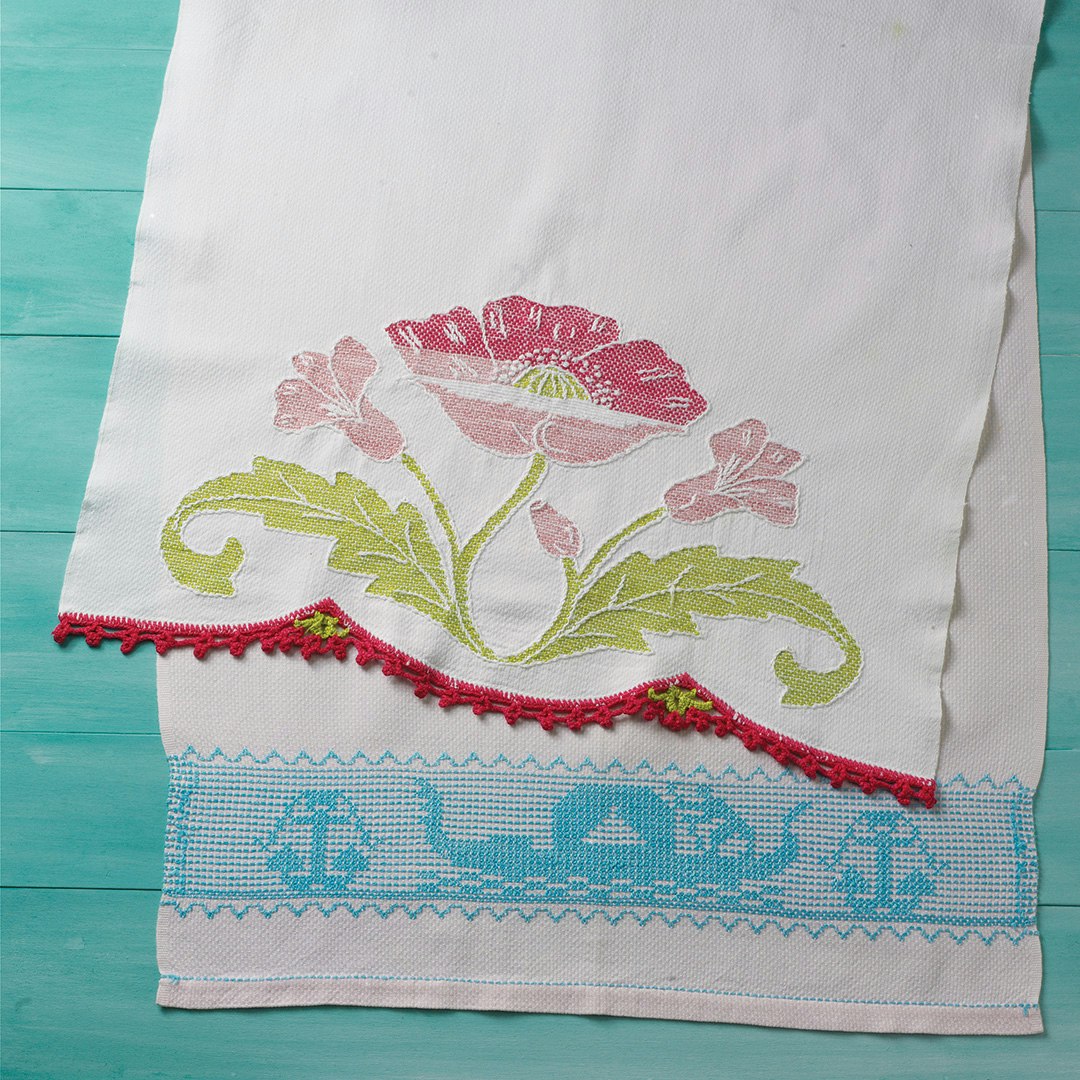 Two vintage towels with pictorial designs worked on cotton huck toweling. The turquoise design, a Venetian gondola bookended by anchors, is worked in pearl cotton using an O type of stitch that allows the embroiderer to create solidly filled shapes and letters. The pink flower on the other towel exhibits a technique less frequently seen in huck embroidery in which a shape drawn onto the huck fabric is filled with straight rows of huck weaving worked in colored thread (pearl cotton in this instance), then outlined and accented with surface embroidery stitches (stem stitch and French knots on this towel); this towel is finished with a scalloped edging of hand-crocheted lace.
Mildred V. Krieg was not alone in publishing patterns during huck embroidery's heyday or afterward. Others, including popular publications such as Aunt Martha's Workbasket and similar needlework magazines here and abroad, as well as thread, fabric, and commercial sewing pattern companies published patterns. Individual designers produced single patterns, pamphlets, booklets, and project packs, featuring designs that can be worked on huck toweling and yardage as well as on monk's cloth, waffle weave, Stockholm (aka Popcorn), Herta, Hertarette, and Aida fabrics. The Japanese design collection books published by Ondori are particularly notable for the wealth of patterns they contain. Because huck pattern charts can easily be deciphered without written instructions, foreign language publications do not present translation barriers.
With worldwide interest spurred on by talented designers in recent years, huck embroidery has progressed from embellishing simple dish towels and their showier sisters to table runners, placemats and tablecloths, curtains, aprons, baby bibs and little girls' pinafores, afghans, decorative pillows, tote bags and purses, bookmarks, box tops, and Christmas ornaments. Although the next step in its evolution remains to be seen, huck embroidery's future does appear to be bright.
Interested in trying your hand at huck embroidery? Find the companion project in the PieceWork March/April 2016 issue.
Also, remember that if you are an active subscriber to PieceWork magazine, you have unlimited access to previous issues, including March/April 2016. See our help center for the step-by-step process on how to access them.
Resources
Feyh, Debi. "Huck (Swedish) Weaving."
Harmuth, Louis. Dictionary of Textiles. New York: Fairchild Publishing, 1915.
Krieg, Mildred V. Huck Towel Patterns, First through Fifth Series. Riverside, Illinois: Mildred V. Krieg, 1936–1950.
———. Huck in Vogue. Berkeley, California: Lacis Publications, 1997.
Kuge, Michiko. Huck Adventures. Berkeley, California: Lacis Publications, 2001 (reprint in English).
Thomas, Mary. Mary Thomas's Embroidery Book. 1936. Reprint, Mineola, New York: Dover Publications, 2012.
Mary Polityka Bush, a designer, writer, instructor, and frequent PieceWork contributor, lives in Piedmont, California. She was introduced to huck embroidery thirty years ago when her mother, Jean Polityka, gave her the set of Mildred V. Kreig booklets that had inspired Jean to embroider towels for the Polityka family's home in Allegan, Michigan. Equally inspired, Mary went on to create many of her own huck-embroidery designs, not only for towels, but for table, kitchen and bed linens, greeting cards, Christmas ornaments, garments, and decorative household and gift items.
Originally published April 22, 2020; updated August 19, 2022.