Did you know that a Thirty-Year-War soldier developed a method for making a thread-covered button? Making buttons provided much needed income for many in the towns and villages of Dorset, England, from the 1600s to the 1800s. In the March/April 2018 issue of PieceWork, Pat Olski shares with us the fascinating history behind Dorset buttons and how to make them.
Belgian needle lace or European metal military buttons? No one is certain which inspired Thirty-Year-War soldier Abraham Case to invent a revolutionary thread-covered button upon his return to Shaftesbury, England, around 1622. Case's creations were designed from locally sourced linen thread that was deftly wrapped over handcut horn rings taken from the abundant sheep population.
Later, in the mid-1700s, Abraham's grandson Peter Case invented a nonrusting metal alloy that was used as a foundation for wire button rings. The wire rings gave a great boost to the already economically significant Dorset button industry. Although the first button was the conical high-top, which was used primarily for men's waistcoats, the Dorset Cartwheel, which is formed over a ring foundation, is the most recognizable.
The techniques that were used by Abraham Case and his sons and grandsons are every bit as artistic and useful today. The traditional steps—casting (covering the ring with blanket stitches), slicking (turning the cast "bumps" to the inside of the ring), laying (wrapping thread spokes), and rounding (filling in the spokes)—form the basis for many regional and contemporary variations.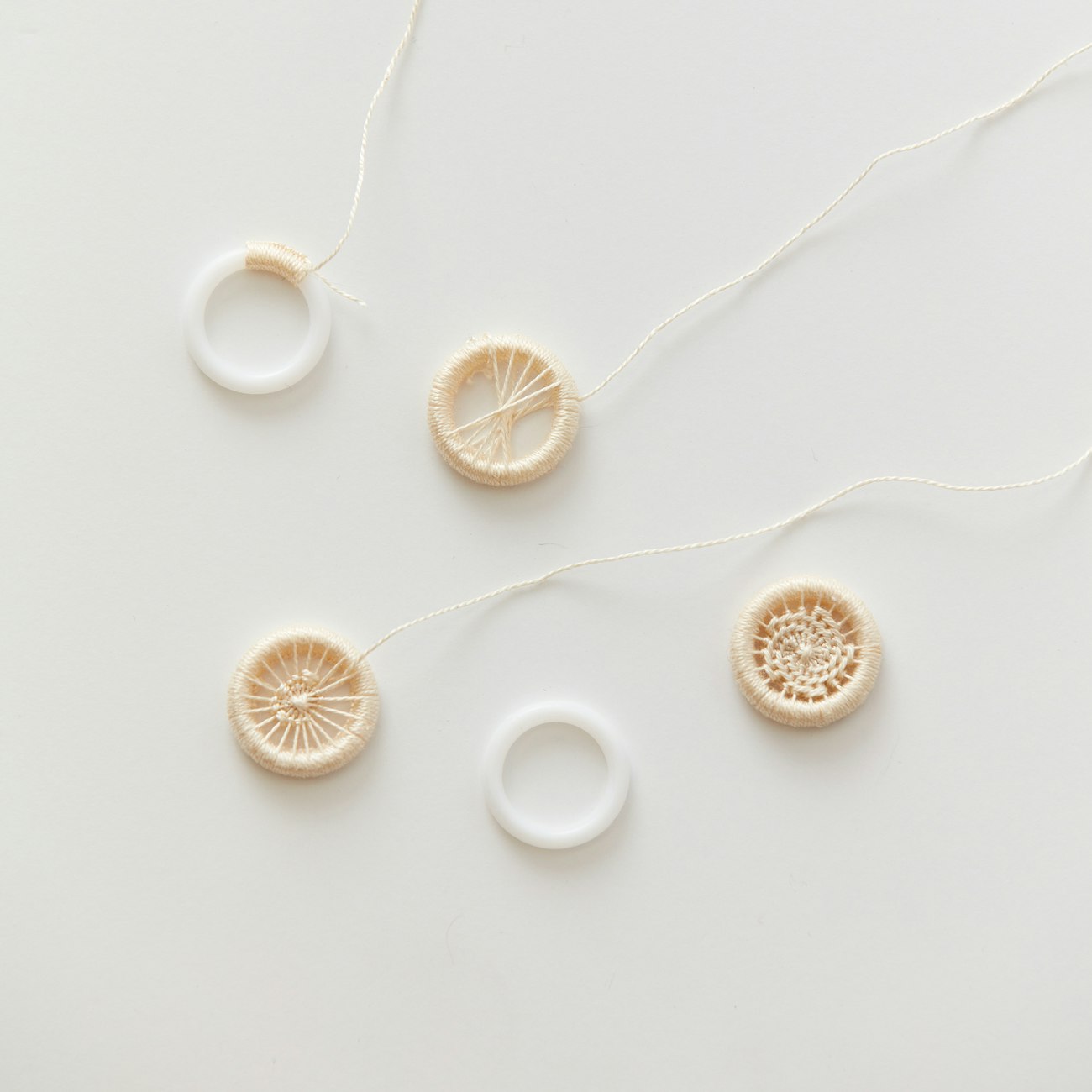 Learn how to make Pat Olski's Modern Swanston Variation Button and more.
Materials for the Modern Swanston Variation Button
DMC Pearl Cotton, 100% cotton thread, size 8, 95 yards (86.9 m)/10 gram (0.4 oz) ball, 1 ball of Ecru
John James Needles, tapestry size 22 (for the rounding step) and chenille size 16 (to anchor the thread when finished)
Dritz plastic ring, 1 inch (2.5 cm)
Finished size: 1 inch (2.5 cm)
To learn more about the history of Dorset buttons and make your own, read Pat Olski's "Dorset Buttons to Make," in the March/April 2018 issue of PieceWork, our 25th-Anniversary issue.
Also, remember that if you are an active subscriber to PieceWork magazine, you have unlimited access to previous issues, including March/April 2018. See our help center for the step-by-step process on how to access them.
Pat Olski is a knit, crochet, and needlework designer who loves to teach, stitch, and write. She has authored a number of books on crafting Dorset button designs into jewelry, shawl pins, and more. Visit Pat at yarnwhirled.com.
Originally published February 14, 2018; updated May 30, 2019; updated July 22, 2022.