Sometimes figuring out what I want to make takes as much effort as actually making something, which is why I am so delighted to introduce this charming collection that will entice you to pick up your needles all year long.
The Twelve Months of Ornaments, created by members of our own PieceWork team, is our way of saying thank you to our All Access subscribers for being such valued members of our community. Each monthly seasonal ornament pattern will let you enjoy needle-crafting with us from January to December in 2023.
Relax, try a new craft, or savor a familiar craft in quick-to-accomplish projects that are fun to make. One of my own resolutions this year is to try to spend more time stitching, and I have already started gathering my materials for the irresistible snowflake laden "Brrr" cross stitch designed by managing editor Laura Rintala.
As I put away the last of my holiday decorations, I am already visualizing how I will use the ornaments I plan to make from this collection—they are so enticing, and the one-a-month commitment is an enjoyable and doable timeframe for me. It has been so much fun for us at Long Thread Media to work together to share our favorite crafts, and we can't wait to see your finished pieces! Happy 2023!
—Pat Olski, PieceWork editor
Living in Colorado, I think of December as cozy and, like Robert Frost's beloved poem, "lovely, dark, and deep." There's something warm and wholesome about the season before the new year. But January has a completely different feel: often the coldest temperatures of the year and brilliant sun sparkling on powdery snow.
When asked to create a small cross-stitch project for the month of January, snowflakes were foremost in my mind. I had purchased a collection of old Ukrainian ethnic cross-stitch designs and two old French cross-stitch booklets from DMC (Album de Broderies Au Point de Croix 1 & 2 by Thérèse de Dillmont, 1885), and I had been poring through them for inspiration. Ukrainian floral patterns, with some additional spokes and flourishes, became snowflakes, and the Dillmont volumes provided ornate calligraphic alphabets. The capital B with breezy swirls paired nicely with a manipulated lowercase R from another alphabet—I was off and running.
This small, as the cross-stitchers call them, can be worked on a wee scrap of linen with any odds and ends of floss, but the satiny smooth Silk Mori and the sparkly blending filaments from Kreinik add design dazzle and twinkle.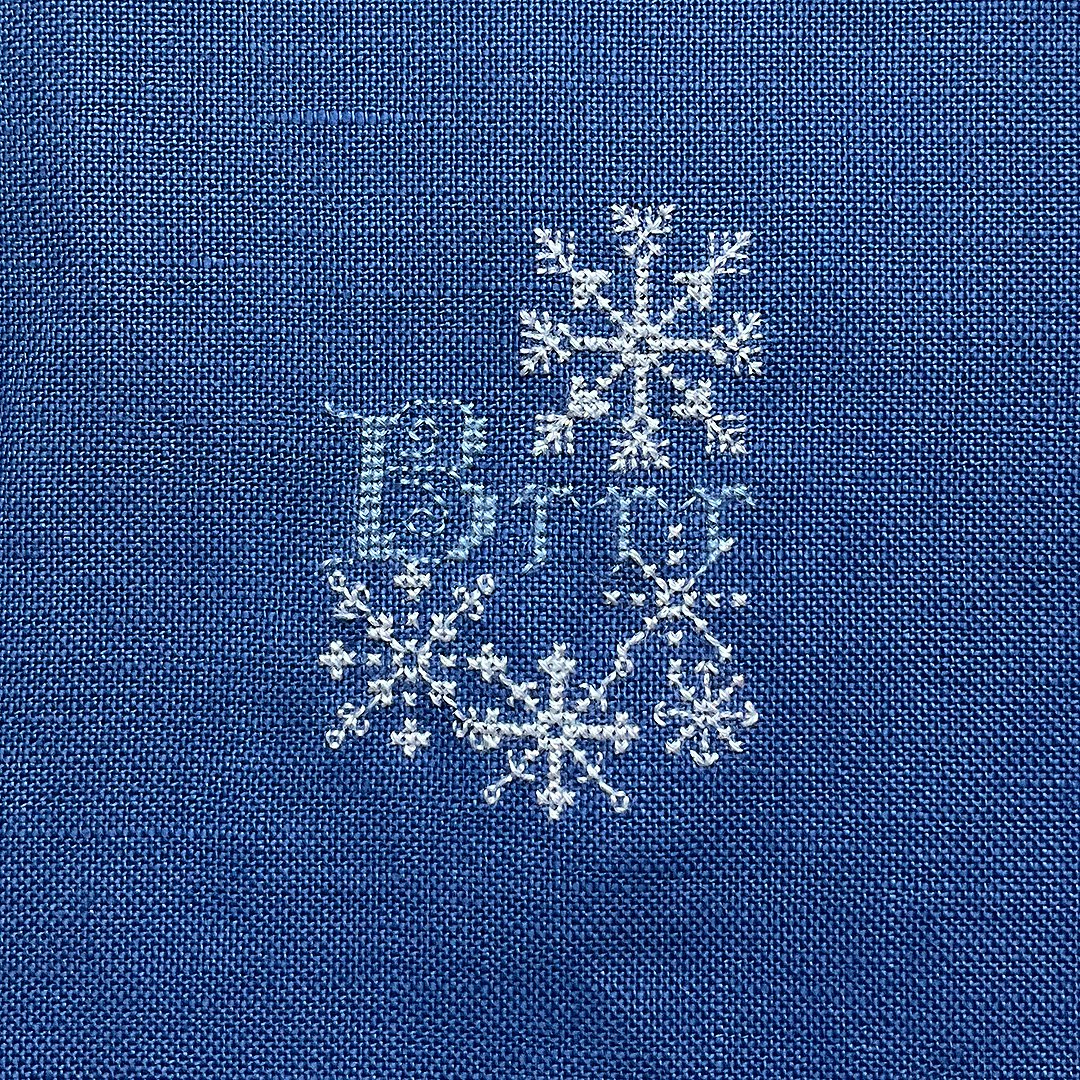 Laura used blending filament to add sparkle to her snowflakes.
Materials
Wichelt-Permin linen 32-count, #65-33L Blue Moon, 7" x 7" (17.8 cm x 17.8 cm)
Kreinik Silk Mori, 100% spun silk, 2.75 yd (2.5 m)/skein, #5091 Ice Blue and #5093 Light Royal Blue, 1 skein each
Kreinik Blending Filament, 55 yd (50 m)/spool, 032 Pearl, 1 spool
Tapestry needle, size 26 or 28
Embroidery scissors
Embroidery hoop 4" (10.2 cm) round for finishing
Finished size: 4" (10.2 cm) diameter
Never worked with silk or blending filaments? Take time to play with the threads and see how you like the coverage and materials prior to starting your design. I used much shorter thread lengths (10 to 12 inches) than I typically would and fewer strands, and that made a big difference for me.
Current All Access subscribers can log in below to instantly access the instructions and chart to stitch your own Brrr Ornament.
Instructions
Notes: This project requires small amounts of each of the flosses and can be worked with far less than a full skein or spool.