Do you keep a collection of aprons once worn by family members tucked away as mementos? PieceWork's January/February 2006 issue brings these familiar domestic textiles out of the kitchen! From utilitarian to whimsical art piece, vintage aprons, in all of their varieties, have become quite the sought after collector's item.
Timeless, practical, and versatile, aprons transcend culture and fads. In her article, "A Twenty-First-Century Apron Trunk Show," Diane Macleod Shink explains "The apron designs echo changes in clothing fashions, fabrics, and popular colors over the past century. For example, when clothes became tightly fitted, aprons became slim and body-hugging." Aprons are the workhorse of domestic textiles, yet they can be dainty enough only to be worn for parties. Aprons come in almost any fabric imaginable and may be embellished with all types of trims, ribbons, and embroidery—imagination is truly the limit when it comes to aprons!
The examples shown here may all be from the 1950s to 1960s, but they couldn't be more diverse in style. The printed apron with its fruit motifs can easily be seen as a kitchen staple, guarding the wearer from the splatter of a weeknight meal. While the finely woven cloth and embroidery of the Guatemalan apron show a European influence becoming a part of traditional Guatemalan dress. In her article, "Aprons of Guatemala," Deborah Dwyer says, "Today in Guatemala, it is now customary for a mother to give her son's bride a fancy apron as a wedding gift." The whimsy of the child's embroidered bunny-shaped apron is just darling, and it might have protected the wee one's clothing as they played.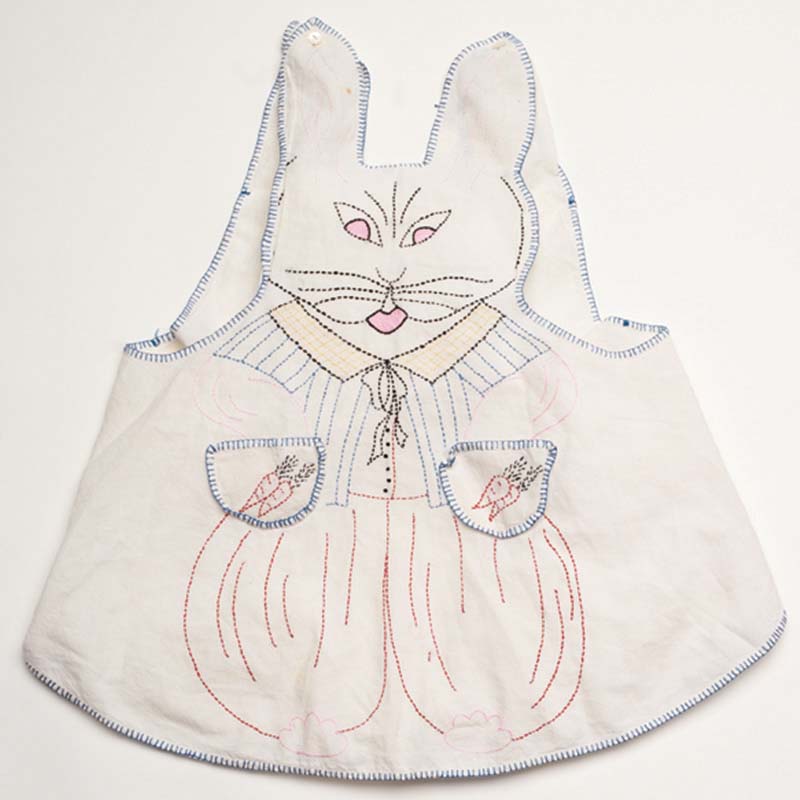 Preserving our domestic textile history through a collection of aprons helps us connect with the generations that came before us. The apron sparks a memory of the wearer—connecting us to them long after they have passed.
Happy stitching!
Elizabeth
Published March 14, 2017; updated January 5, 2021.