At the northern rim of the San Luis Valley in central Colorado, a small world of stitching wonder emerged during the annual Cinco de Mayo celebration two weeks ago. The opening of the San Luis Valley Colcha Embroidery exhibition at The Range in the historic village of Saguache revealed over 100 pieces of stunning colcha and colcha combination embroidery.
Colcha History & Tradition
Colcha, the Spanish word for bed covering, refers to a Spanish Colonial style needlework used centuries ago in northern New Mexico and southern Colorado. The colcha stitch was originally used to cover the seam of two pieces of loose plain-weave cloth, sabanilla, joined to make a bedspread. The colcha embroidery technique couches long or short laying stitches to create large pictorials or scattered motifs. It's common in the historical and contemporary stye of San Luis Valley colcha artists to cover the entire surface of the fabric with embroidery. Traditionally, wool from the hardy Churro sheep brought by the Spanish provided yarn to weave the sabanilla as well as the yarn for the embroidery itself. Colcha embroiderers dyed yarn with yellow rabbit brush, cochineal, indigo, and a variety of native plants to achieve desired color varieties.

Left to right: Rosy Spring Morning by Delores Worley, 1990, wool on cotton; detail of Cantaron los Rei Senores by Julia Gomez, 2006, handspun, handwoven, hand-dyed wool on wool; detail of Las Floritas by Annette Gutierrez Turk, 2019, handwoven, hand-dyed wool on wool; Colcha by Loretta Lujan
Colcha Today
Many contemporary colcha embroiderers featured in the exhibition stitch on commercially produced cloth and commercial yarns, but some artists continue to spin Churro fleece into yarn, weave their own sabanilla, and dye the embroidery yarn with natural dyes. Very few artists work solely in the colcha stitch, choosing a combination of several embroidery stiches. The colcha pieces on display in Saguache reflect the personal and cultural stories of the region; churches, local characters, and specific events all find a place in the embroidered stories of the San Luis Valley.
In Sweet Tarts and Pinon Nuts, Brenda Lovato re-creates a scene from when her mother took her and her sister to pick piñon. Her mother used a special stick to shake nuts from the tree and gave her daughters Sweet Tarts as a reward for gathering the piñon.
Sweet Tarts and Pinon Nuts, Brenda Lovato, 1978, wool on cotton; from the collection of Toni Mondragon
Adrienne Garbini, founder and owner of The Range, stitched Cano's Castle in Antonito, Colorado, in just five months. The castle is a San Luis Valley folk art landmark constructed over the last 30 years by a local, Dominic "Cano" Espinoza, using mostly scavenged materials and cut-off ends of aluminum cans.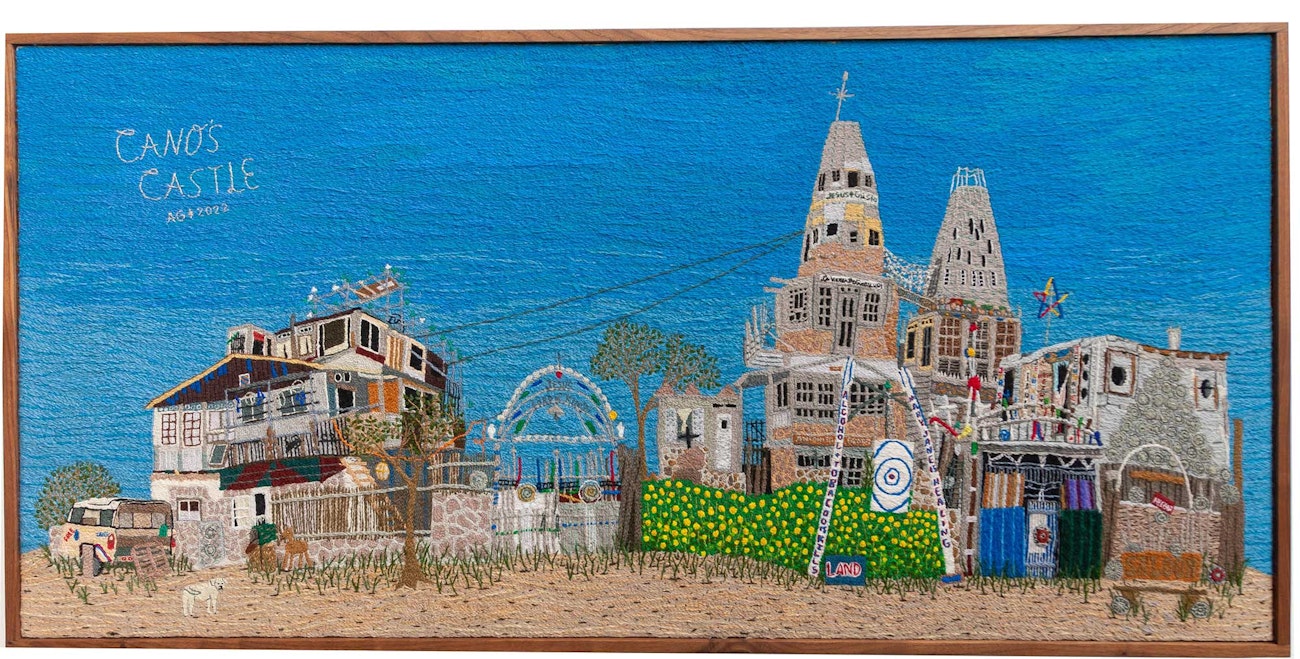 Cano's Castle, Adrienne Garbini, 2022, wool on silk
Los Pastores de La Sierra by Josephine Lobato captures the history of sheep herding on the land known as "Puertocito" which is associated with the original Spanish Land grant and part of the contested land battle between San Luis residents and a series of landowners who had privatized this track of land and fenced it off, denying access to the descendants of the original Spanish settlers in the Valley. The mountain represents freedom.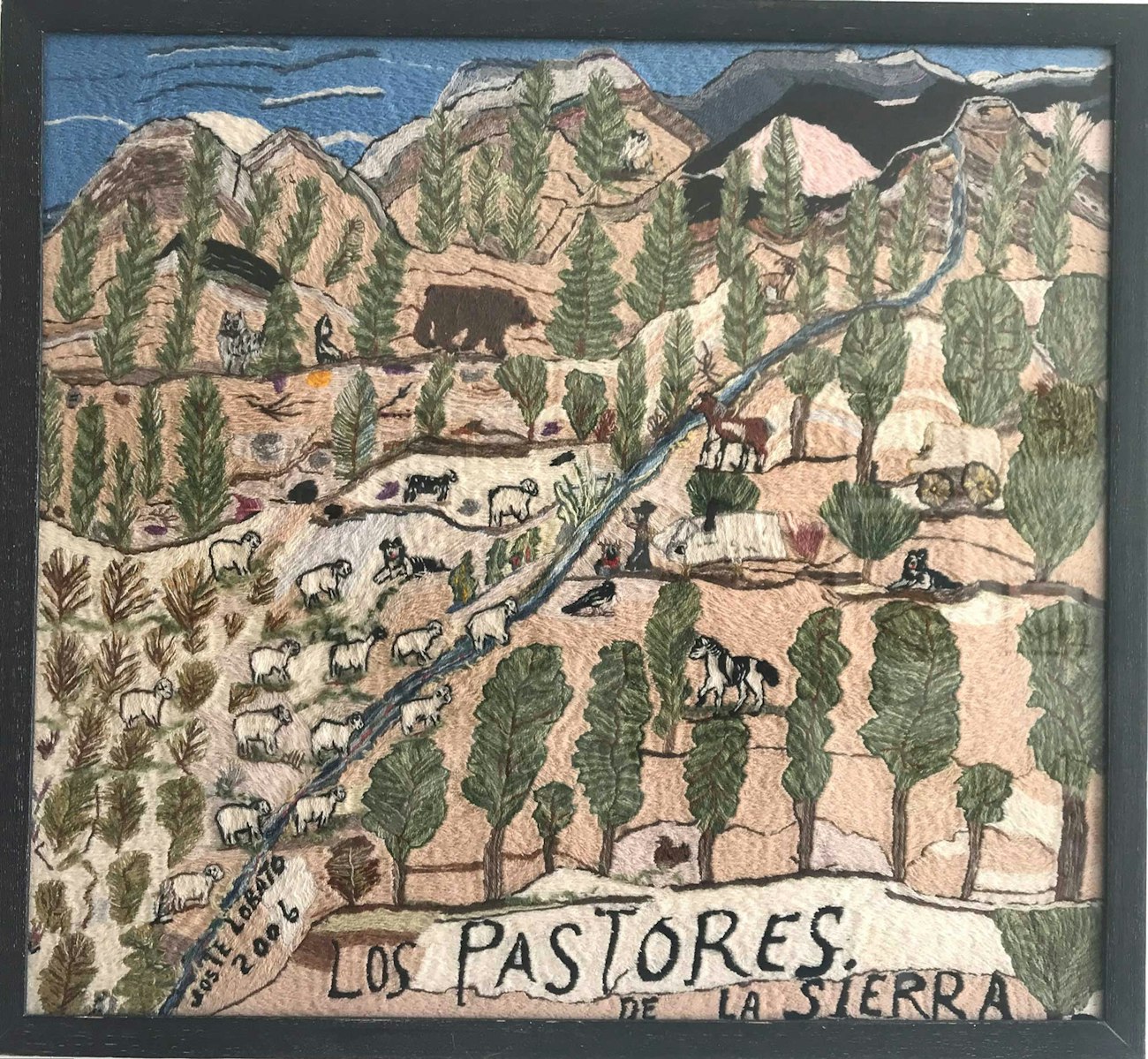 Los Pastores de La Sierra by Josephine Lobato 2006, wool on cotton; from the collection of Rita Lobato Crespin. Photo by Karen Brock
Colcha Future
The day after the exhibition opening, award-winning colcha artist, Julia Gomez, along with Annette Gutiérrez Turk, and Barbara Romero Alba taught a class of about 30 eager participants who wanted to learn the colcha technique. Gomez has been making colcha for over 30 years and loves teaching not only the technique, but the history. For her, colcha is about telling stories, and she especially wants to keep the stories and the work of colonial-era women alive. Colcha groups in Colorado and New Mexico continue to gather, sharing their stories, and carrying the tradition forward. Through these committed embroidery artists and through exhibitions like San Luis Valley Colcha Embroidery, the story of colcha lives on.
San Luis Valley Colcha Embroidery
May 7–June 19
The Range
307 4th Street
Saguache, CO
(646) 734-1373
[email protected]
www.therangeontheinternet.com
Karen Brock is a contributing editor of PieceWork magazine.