Imagine you're in Houaphan Province, Laos. North Vietnam is to the east; Thailand is far to the west. You're in a small steamy village in the mountains, walking down an unpaved walkway past wooden homes high on stilts, women busy at their looms in the shade below. They're weaving intricate textiles using glistening silk they have raised, reeled, and dyed with local plants. Now let's zoom in on one critical step of this process and see where it takes us.
We'll start with a basket of fully formed silk cocoons. You'll see these on the verandas of many homes—cocoons spun by Bombyx mori caterpillars that the women have nurtured with great care and many mulberry leaves. A pupa has developed in each one, and they will soon metamorphose into moths, ready to hatch.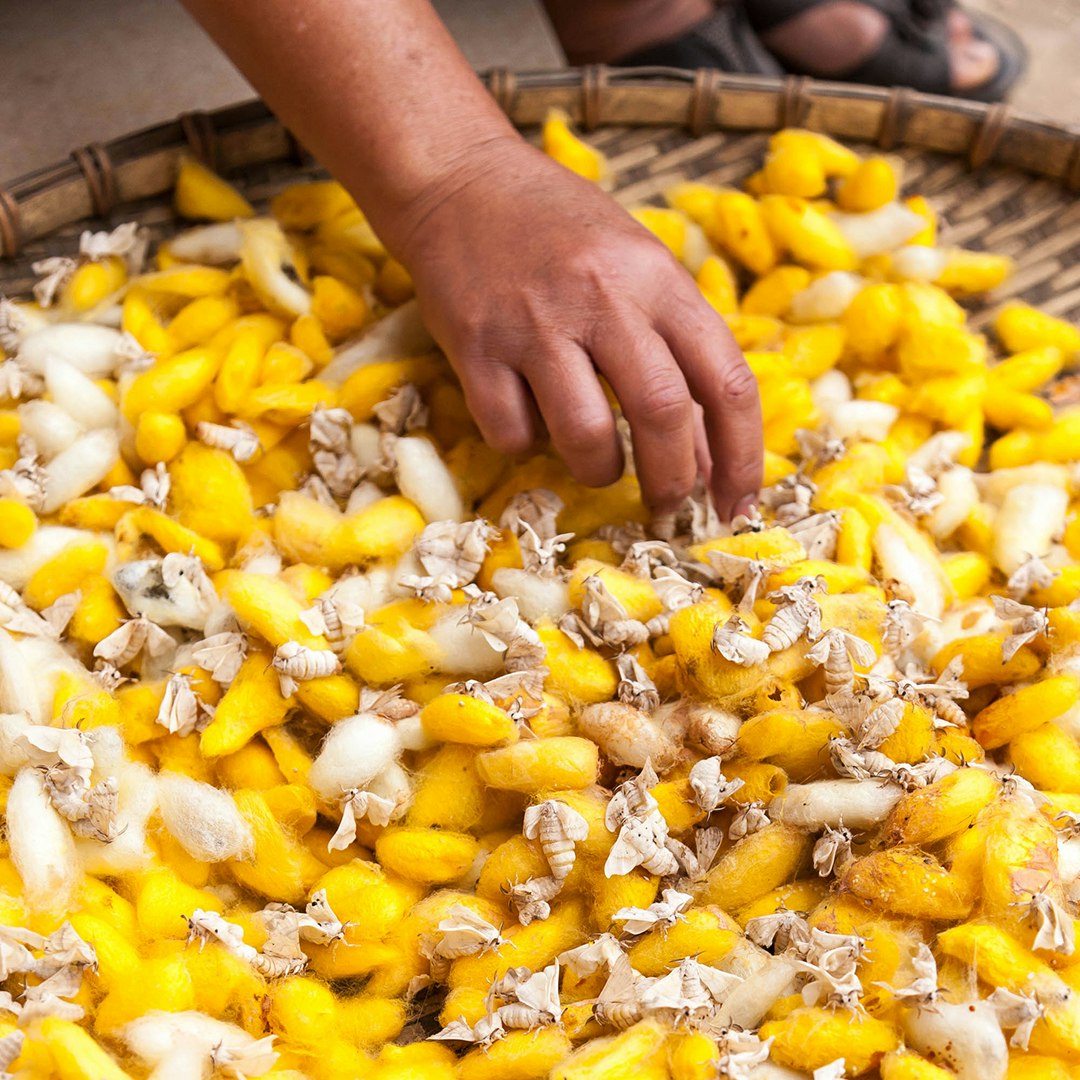 Moths hatching from silk cocoons at a weaver's home in Xam Tai, Houaphan Province. The variation in cocoon color doesn't affect the color of the final silk thread. Photo by Joe Coca, from Silk Weavers of Hill Tribe Laos
If they are allowed to hatch, the moths will emerge from tiny holes that render the cocoons unsuitable for reeling into that precious continuous thread. Instead, they will come out to mate, lay eggs, and produce a new generation of caterpillars. On the other hand, if they are not allowed to hatch, that is, they are killed with heat while still in the cocoon (the fate of the vast majority), there will be no moths to reproduce and make new caterpillars.
When Maren Beck began visiting the village of Xam Tai in Houaphan Province with her family some 15 years ago, she saw a splendid man/woman healing cloth with a border of closely spaced tassels, each incorporating a cocoon that had been cut in such a way as to resemble a four-petaled flower. It had been woven by Sukkhavit, a prominent and respected weaver in the village. The subsequent two or three years (Maren and her husband, Josh Hirschstein, have visited the area at least annually) didn't reveal more cocoon tassel borders, although they sometimes saw the tassels used sparingly on older ceremonial pieces, such as shaman cloths and funeral textiles.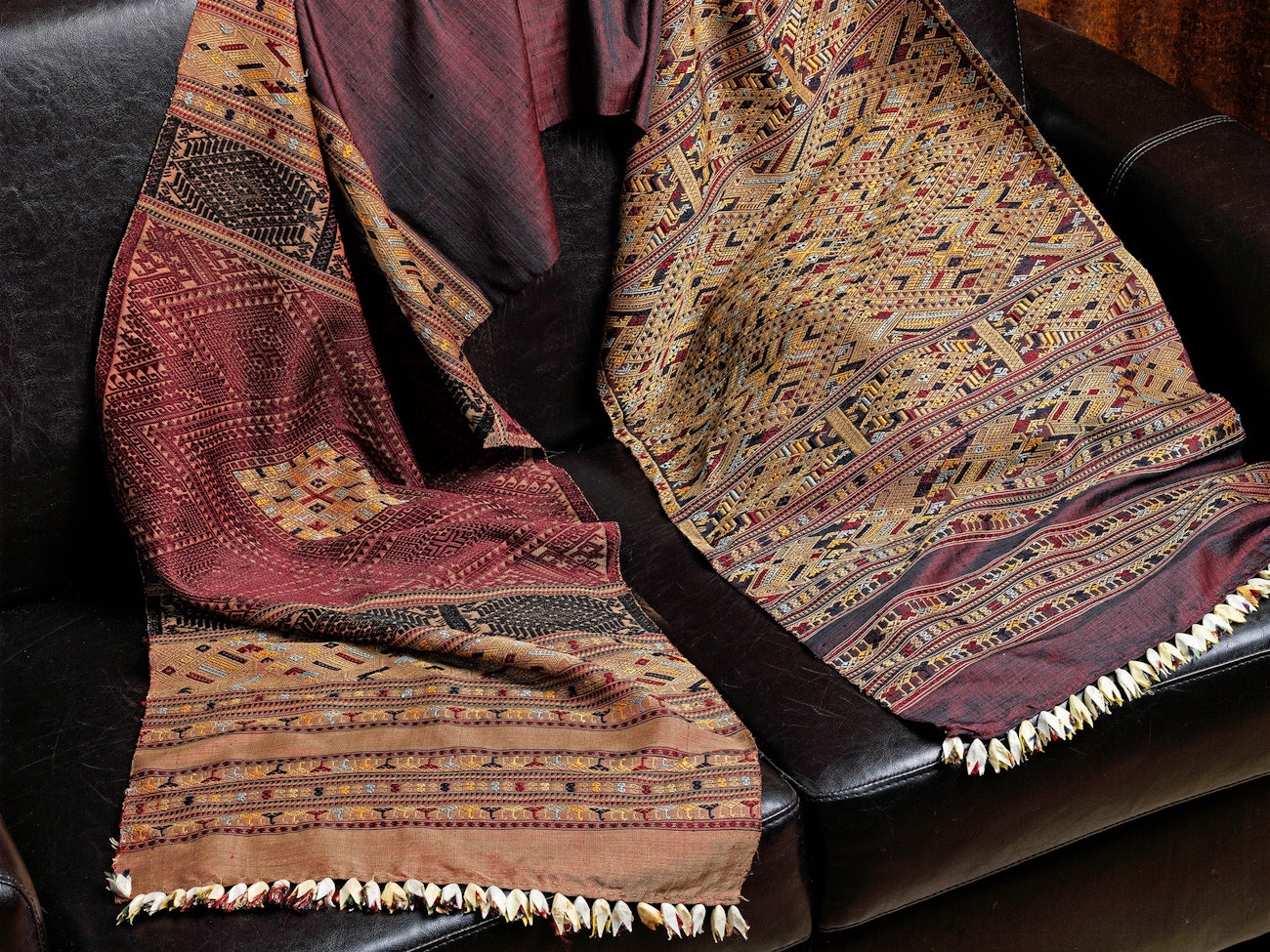 This "man/woman" healing cloth with tassel border was woven by Sukkhavit. The patterning on the left and right sides of the fabric is identical, but the "woman" side is rendered in vivid colors, while the "man" side is monochromatic. Photo by Joe Coca, from Silk Weavers of Hill Tribe Laos
At some point, they mentioned in passing to their translator and friend, Malaithong Bounyaxay, that their customers in the United States were quite charmed by the embellishment. "We had always had a policy of not asking for or ordering any specific textiles," Maren says, "because we didn't want to influence the traditions." But on their next trip, after that remark, "Everyone had added cocoons to their textiles!" A pragmatic response to market preferences.
Carol Cassidy, who has been collecting and promoting traditional textiles at Lao Textiles in Vientiane, Laos, for more than 30 years, confirms that cocoon tassels are occasionally seen on historical textiles. She has several such old pieces in her collection created by Lao Tai weavers. According to Souksakone Khakhampanh, a leading weaver in Xam Tai, the Lao Loum and Tai Daeng people, among others, have long used the cocoon tassels for decoration, though now they are used mainly for funerary textiles (as well as pieces for sale). If there's more meaning in the use of these decorative details, it's not for us to know.
Each cocoon is cut, turned inside out, and stitched to the fabric edge along with a small tassel of silk threads. Illustration by Ann Sabin Swanson
So how are these cheerful embellishments created? Simple. Make two deep crosswise cuts in the narrow end of a cocoon where the moth has damaged it by hatching out, and spread the resulting "petals." Turn the cocoon inside out so the smooth inside is now the outside of the "flower." Take four or five strands of twisted silk, knot them together in the middle, place the knotted end inside the cocoon "flower," and stitch the tassel and cocoon to the hem of the textile. Repeat until the entire hem is decorated.
This use of cast-off cocoons is both inventive and aligned with tradition, as well as appealing to a larger market. It's a testament to the resilience and creativity of the Lao people of the hill tribes.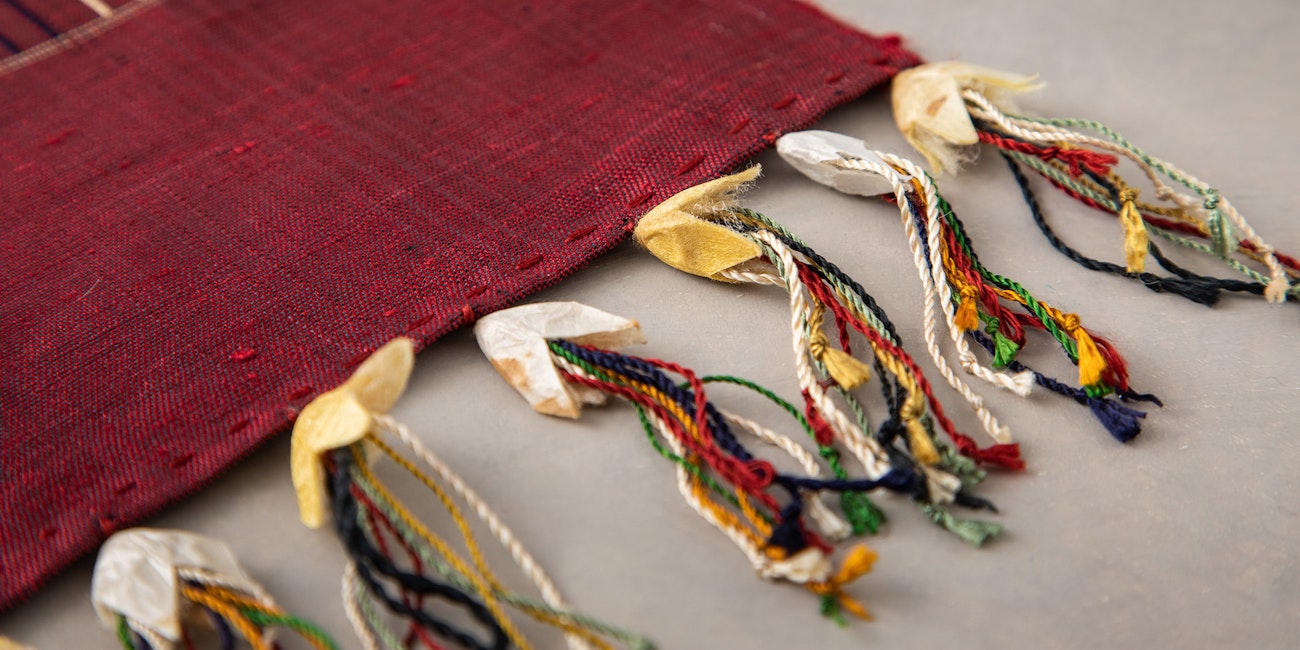 Handwoven textile from Laos with an embellished edge created with silk worm cocoons. Photo by Matt Graves
Resources
Above the Fray, purveyor of traditional hill tribe art located in Eugene, OR, hilltribeart.com.
Carol Cassidy Lao Textiles, Vientiane, Laos. laotextiles.com.
Hirschstein, Joshua, and Maren Beck. Silk Weavers of Hill Tribe Laos: Textiles, Tradition, and Well-Being. Atglen, PA: Thrums Books/Schiffer Publishing, 2017.
Linda Ligon is a cofounder of Long Thread Media.
This article was first published in Spin Off Summer 2022.