No equivalent of the modern-day Sunday school occupied children attending church with their families in the late seventeenth and eighteenth centuries. Even the youngest children were expected to sit silently and respectfully alongside the grownups throughout one or more services that could last for hours.
Because the children's best behavior rarely lasted as long as the services did, some mothers let their children play with small toys brought from home. Some of the most successful of these are known as church dolls or prayer dolls, church-pew or pew dolls, or pew babies.
Church dolls were little more than a man's handkerchief or other fabric square gathered around a ball of cotton placed in the center to represent a head, with two corners knotted to create arms and hands. A child's imagination provided any other details (more elaborate dolls might also have had touches of embroidery).
Lasting Mementos
During the Civil War, similar dolls made from the handkerchiefs of fathers, brothers, or uncles were given to children as the men departed for war. Too often, these dolls were all that the children possessed to remind them of loved ones who never returned from battle.
Few church and other handkerchief dolls have survived, owing largely to their ephemeral purpose and construction. By the same token, these simple playthings today are a popular craft project for children (and adults), particularly at pioneer museums. The safest of safe toys, church or handkerchief dolls make thoughtful gifts for newborn babies as well as toddlers.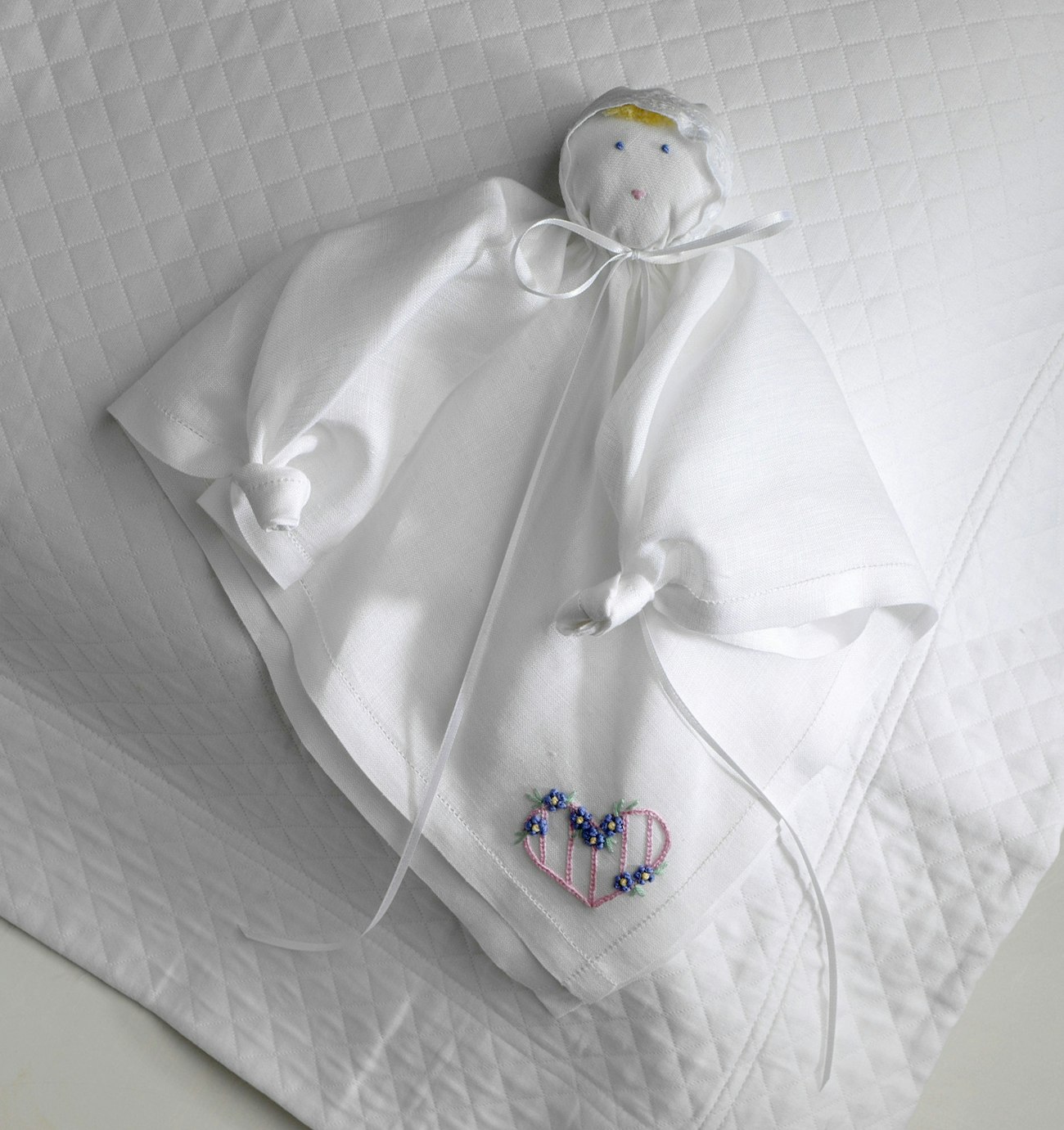 Church doll by Mary Polityka Bush. 12½ x 10 inches (31.8 x 25.4 cm). Photo by Joe Coca
Make a Church Doll
Transforming a man's handkerchief into a church doll takes only a few minutes; the simplest version requires only a handful of fiberfill and two knots. Embroidered faces and hair, flowers, hearts, and monograms are perfect additions. We added an embroidered heart and flowers on the skirt and used French knots for the doll's eyes, satin stitch for its mouth, and Turkey work for its hair.
You will need:
a man's white linen handkerchief, 16 inches (40.6 cm) square

white sewing thread

white flat eyelet lace, 2½ inches (6.4 cm) wide, 6 inches (15.2 cm) long

white satin ribbon, ⅛ inch (3 mm) wide, 1 yard (91.4 cm) long

hand-sewing needle

polyester fiberfill
Make the Bonnet
Press the long edge of the lace under ¼ inch (6 mm). Sew ¼-inch (6-mm) double-fold hems on the short edges. Using white thread, gather the long, folded edge with running stitches. Cut the ribbon in half; sew one piece to each front corner of the bonnet.
Make the Doll
Center a handful of fiberfill on the handkerchief to make the head. Using white sewing thread, gather the handkerchief under the head with running stitches. Gently pull the handkerchief into a triangle with the head centered at the top. Tie the right and left corners in soft knots. Place the bonnet on the doll's head; tie the ribbon under its chin. Fold the arms toward the center of the doll and pouf the sleeves.
Mary Polityka Bush lives in Piedmont, California. Find this and other great articles in the November/December 2003 issue of PieceWork.
Originally published August 7, 2017; updated October 4, 2022.