Lace brings out an ethereal, almost fragile, charm to a textile. The culture of crafting lace by hand was brought to India by nuns and Christian missionaries who travelled from France, Portugal, Belgium, and other European countries. In their convents, they taught women (both affluent and underprivileged) bobbin lace, Bruges lace, Cluny embroidery, petit embroidery, and more. There has never been a proper documentation of lacemaking in India. Broadly this type of work is referred to as convent embroidery.
Along with such handmade laces, there also grew a market for imported laces in India. Several made their way into the country. In PieceWork, May/June 2018, I wrote about one such machine-made Pichwai lace at the National Museum.
A simple query about how French lace goods came to be used as a saree fabric resulted in a search for more information. Shilpa Shah, cofounder of Textiles & Art of the People of India (TAPI) kindly shared information and images from their large collection.
Shah says, "French Chantilly lace and French chiffons were the sartorial choice of urbane ladies, a fashion phenomenon of cosmopolitan high society in the hot summers of North and Western India from the mid-twentieth century onward. We have two made in the third quarter of the [twentieth century]. The pieces in our collection were acquired in the 1990s."
Lace Saree (Black). Woven, metal wrapped with gold color yarn (zari). L 283 x W 113 cm (111.4 x 44.5 inches). 1996. Chantilly, France. TAPI Collection, India
India's tryst with imported textiles is legendary. Beginning in the early nineteenth century, exquisite embroidered fabrics from China were brought by Parsi men (of Zoroastrian faith) who went to China for trade. These white-on-white textiles were sold by the yard and 6-yard (549 cm) pieces were draped by the women as sarees. This is how the famous Parsi Gara embroidered sarees came to India. Upon seeing the demand for the sarees, enterprising Chinese businesses started producing the yard goods in colors and in the format of saree cloth with patterning at the borders and on the ends (pallav). The embroidery then started to be done in India as well. Today, the Parsi Gara embroidery is still a thriving enterprise.
Chantilly Lace
Chantilly lace was originally a handmade bobbin lace that originated in Chantilly, France. It was produced in strips about 4 inches (10 cm) wide. These narrow strips were then joined together with fine seams. Lace-making machines date back to the nineteenth century, and they allowed for the creation of wider widths, which was important for the draping of a saree.
Chantilly lace is known for its fine ground, patterns outlined in cordonnet, and abundant details. It was generally made from dull black silk thread.
In the same manner that European royalty and high society were captivated by India's cashmere, Indian royalty and society took to French laces, Cartier jewelry, Rolls Royce motor cars, perfumes, and more. Chantilly lace sarees seem to have been one such phenomenon. There is little information available from the manufacturers as to whether it was bought by the yard to be fashioned into sarees. But there is enough evidence that it was a popular trend.
The story of Chantilly lace seems to be similar to that of French georgettes. Stories have been written about how fabric agents would request audiences in India with Indian royalty to show their latest stock, and because many of the nobility also owned residences in England and Europe, lace was sometimes bought during their sojourns abroad.
Anshu Khanna, founder of the design and exhibition Royal Fables, says, "Chantilly lace sarees were a social phenomenon in the late '60s and '70s, especially in North India. Royals, of course, wore them, but almost every woman from an upper crust Punjabi family (belonging to the State of Punjab in India) had a couple of sarees in black and gold lace or white and silver. It was much coveted amongst this segment of well-dressed women." The Chantilly laces that came to India were machine woven, and therefore it was not difficult to get the 45-inch width required to drape a saree. The fabric could be bought by the yard.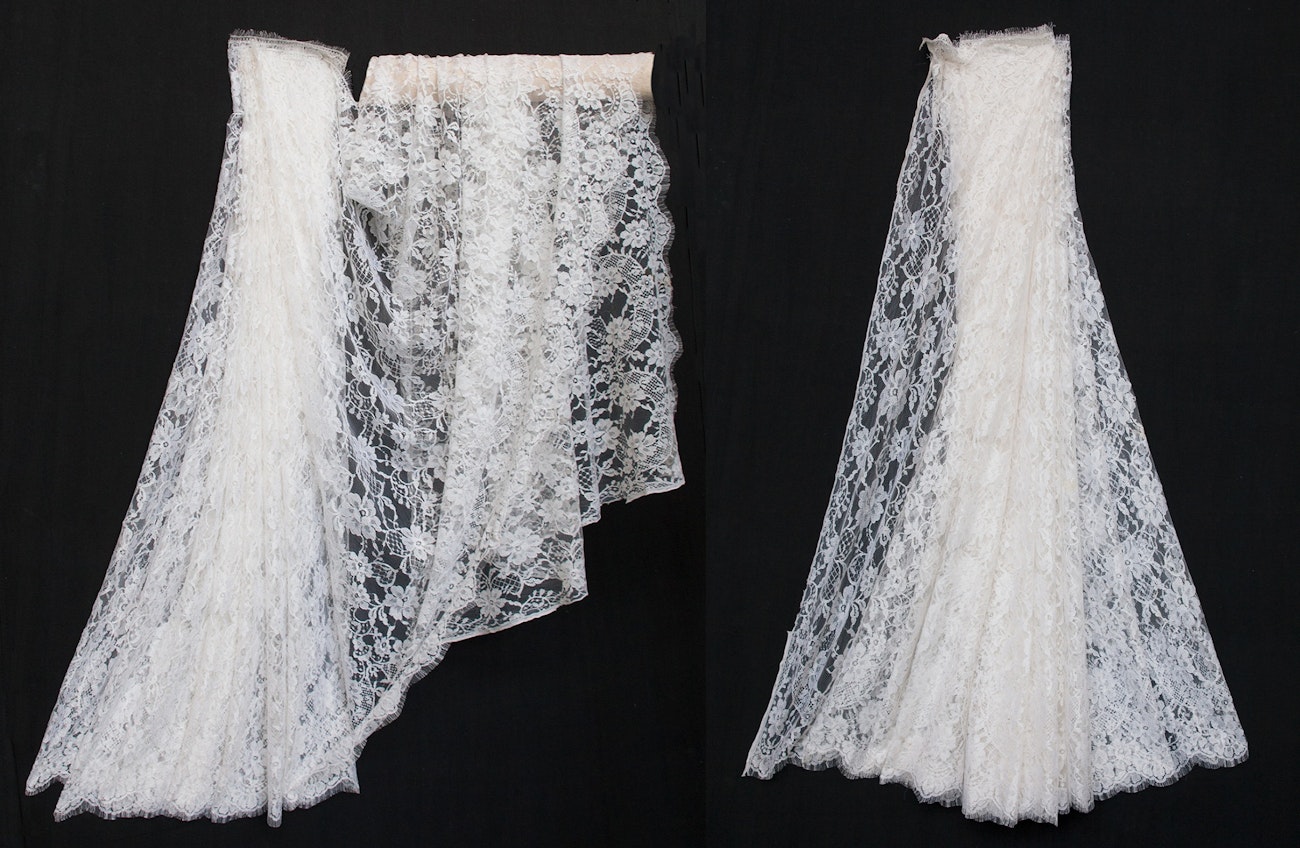 Lace Saree (White). Woven. L 520 x W 114 cm (204.7 x 45 inches). 1996. Chantilly, France. TAPI Collection, India
Anshu further adds, "Most of these sarees had scalloped edges, so the trim [that] is usually affixed to the bottom of the saree was also scalloped. A category of tailors soon emerged who specialized in this fine stitching. Even today, designers still create sarees using Chantilly laces from France. Several of them, especially haute-couture brands, use Chantilly lace as an embellishment and for the borders on chiffon fabrics. They cut motifs out of lace and then handstitch them to a chiffon saree."
Ethereal and lovely, the combination of French lace on graceful sarees is a triumph of Indian clothing design.
Chitra Balasubramaniam writes, collects, and experiments with textiles, following her passion with writing on food, travel, and heritage. She dabbles with stock investment analysis and research. She also runs a small travel-log—www.visitors2delhi.com. You can also find Chitra on Instagram @visitors2delhi.