Chakla means a cloth having four angles. These square pieces of cloth are a part of the collective vocabulary of all communities of Kutch (a district of the Gujarat state in western India). All of the Kutch communities make these. What distinguishes one community's chaklas from those of another community is the embroidery design—the stitches, technique, and, of course, the motifs.
Although today chaklas are used as wall hangings and for decoration, typically a bride would embroider chaklas for her trousseau. The chakla being squarish (the square is auspicious) indicates it is a ceremonial cloth. It is used during the wedding ceremony to cover the dowry (the gifts from the maternal side) to be given to the bride, the wedding gifts, and other auspicious items kept on a tray to be gifted. The number of chaklas given at the wedding also determines the wealth of the family. Chaklas are also used during pre-wedding ceremonies, when welcoming a newborn, during the cradling ceremony, and more.
This piece comes from the Kharapat Rabari. Kharapat Rabaris, or the Salt Water Rabaris, get their name from the place that they inhabit, which is near the Rann of Kutch (a salt marsh in the Thar Desert).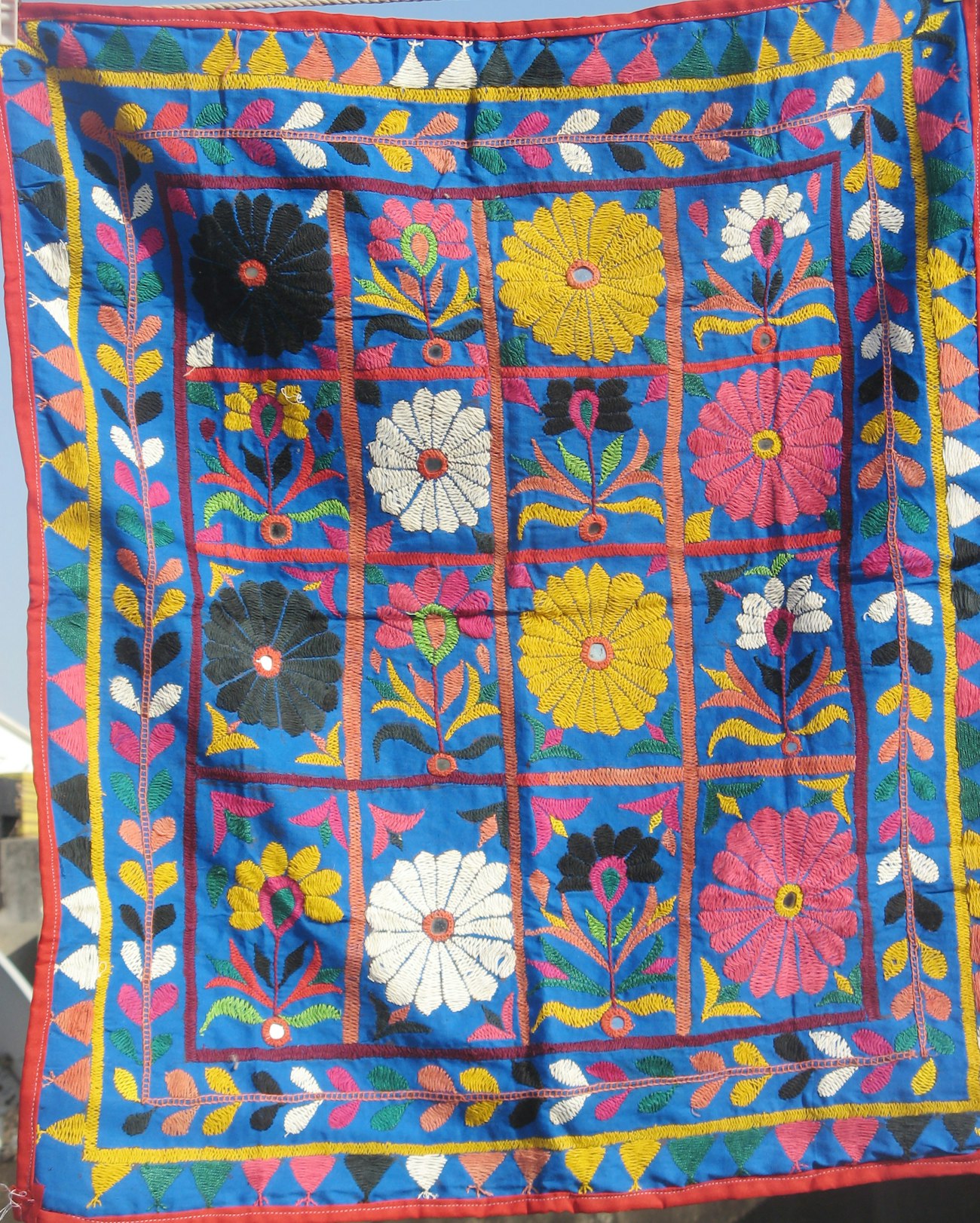 In terms of color, this deep blue chakla is different from most chaklas in general. Usually they come in off-white colors. This one is not a perfect square, measuring 22 inches (56 cm) by 26 inches (66 cm). The color combinations are in attractive shades of yellow, ochre, red, green, and brown, and it is color-coordinated.
The stitches on chaklas are traditionally a combination of herringbone and chain stitch interspersed with mirrors. The stitches on this one are grouped together like satin stitches so that the embroidery looks full.
The outer area is embroidered in two border patterns. One is the auspicious triangle, and the other is leaves. The color sequence is carefully repeated in both borders.
The inside portion of this chakla is divided into 16 squares, each with a flower in it. The floral patterning alternates with a flower head in one square followed by a flower held in a flowerpot in the other. Mirrors have been placed in the centre of the large flowers and in the flowerpots of the smaller flowers. What is striking is that the each square is complete in itself in terms of the embroidery, motif, and pattern.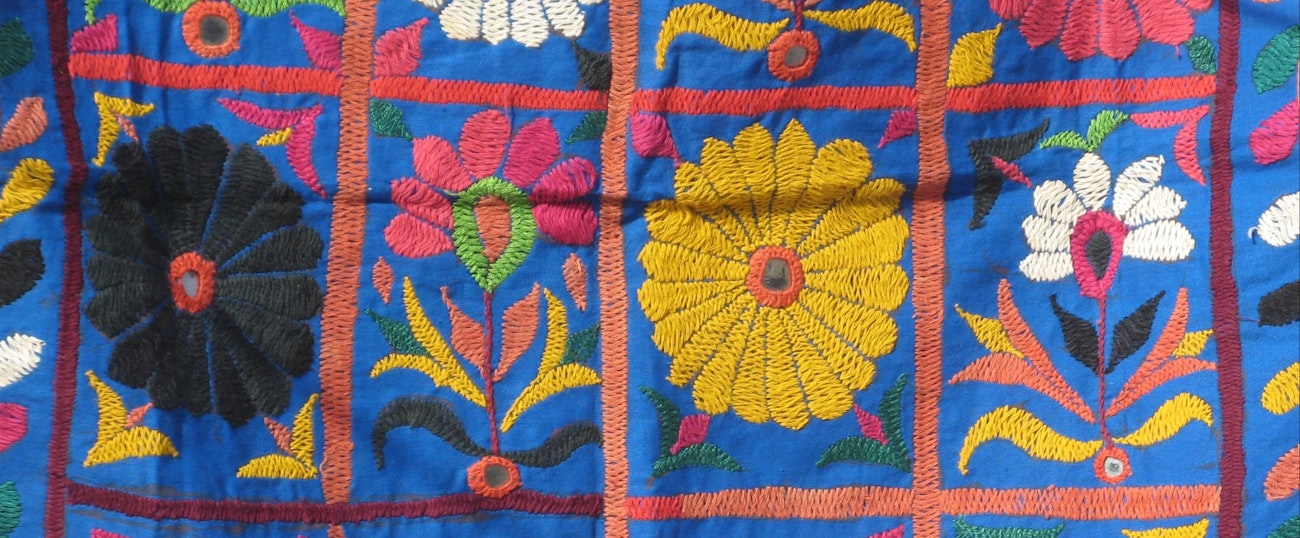 The color choices, coordination, and sequencing, as well as the placement of the floral patterns all suggest that this chakla was lovingly made for a trousseau.
Chitra Balasubramaniam writes, collects, and experiments with textiles, following her passion for writing about food, travel, and heritage. She dabbles with stock investment analysis and research. She also runs a small travel-log about Delhi.