Bargello is a form of needlepoint embroidery also referred to as canvas embroidery. It consists of signature upright stitches (Gobelin-type stitches) that are linear. Repeating sequences of stitches create motifs in geometric and symmetrical patterns. Use of yarn colors and shading illuminate peaks, ridges, and zigzags. Analogous color schemes, from light to dark, are the classic choices. One main pattern line of stitches is first established and then repeated sequentially throughout. This is not a free-style form of needlework but rather an orderly, formal, and disciplined use of upright, vertical stitches.
There are several appellations for this needlework technique. "Florentine work" is a commonly used term, as some of the most noted extant textiles created with this stitching style—a set of chairs—are connected to Florence, Italy. The term "Hungarian point" (punto unghero) is based on the belief that bargello began in Hungary. And flame stitch (punto fiamma) is probably the best known of all the stitches, referring to zigzags that resemble flames. In the United States, we commonly use the term bargello to encompass this needlework form.
Throughout the years, bargello has experienced some creative transformations. Often, bargello was combined with or embellished other embroidery work. In Four Way Bargello, needlework artist Dorothy Kaestner popularized a very attractive graphic representation known as "four-way" bargello as a more modern take on the traditional patterns.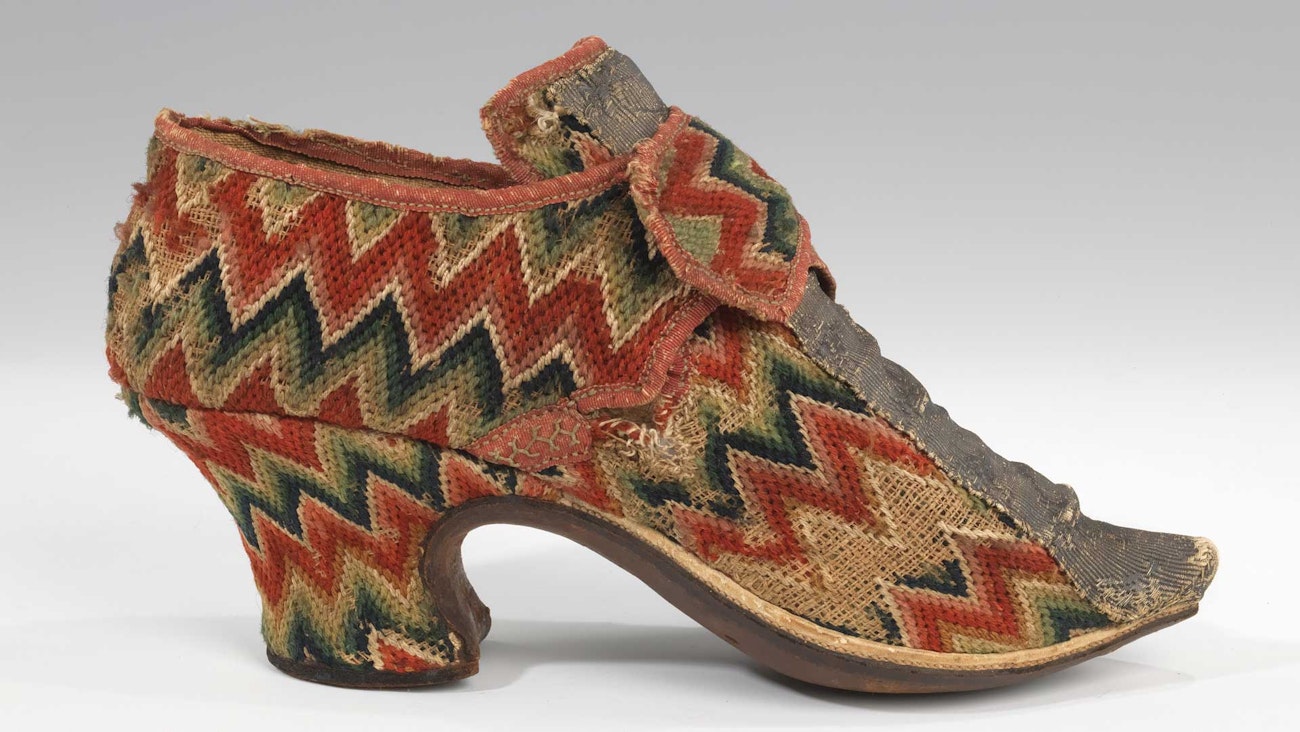 Shoe, British, 1700–1729. Courtesy of the Metropolitan Museum of Art, Brooklyn Museum Costume Collection
Origin Stories
Like other types of needlework, bargello presents a challenge in pinpointing historic origins, including specific dates, geographic locations, and makers. Sometimes this was due to questionable translation of terminologies or the crossover of the stitch interpretation of the many indigenous embroiderers from various countries during an era. We have been able to trace bargello's evolution by examining embroidery and fashion trends, the cultural and social zeitgeists, historic timelines, and even the development of needlework tools and materials.
First, let's explore some of the more romantic origin myths that have permeated the legendary handcraft. One such myth is that a fourteenth-century Italian nobleman had intentions of rehabilitating prisoners doing time in a Florence prison—the Bargello. He furnished embroidery thread and the ground materials to the inmates, and their handiwork resulted in the iconic bargello flame stitch. This particular account has been largely debunked with questions around the short length of time a prisoner was actually in the prison, often for just a few days (see note 1). Also, practical factors such as the lack of lighting and other environmental conditions weren't conducive to detailed stitching. Eventually, the Bargello was turned into a museum, the Museo Nazionale, where bargello-upholstered furniture artifacts are on display.
Another popular bargello story is that a Hungarian princess married an Italian aristocrat of the Medici family. Her trousseau was filled with pieces trimmed in Hungarian point embroidery. She taught the embroidery art to the royal Florentine court, and this is how bargello embroidery became known as punto unghero.
Another story rooted in Hungarian tradition tells of a Hungarian princess marrying a Polish king of the Jagiello family in 1383. The embroidery in which she was adorned was loved, popularized, and copied, even in religious vestments. Since the Jagiello family's name was also referred to as "Jagello," some inferred that the term bargello was hence derived.
Every country throughout Europe seemed to have needlework origin stories during the fourteenth and fifteenth centuries. We can probably conclude that bargello most likely evolved as an art form by the fifteenth century, springing from Renaissance influences, and was popularized during the Medici reign in Florence, Italy (see note 2).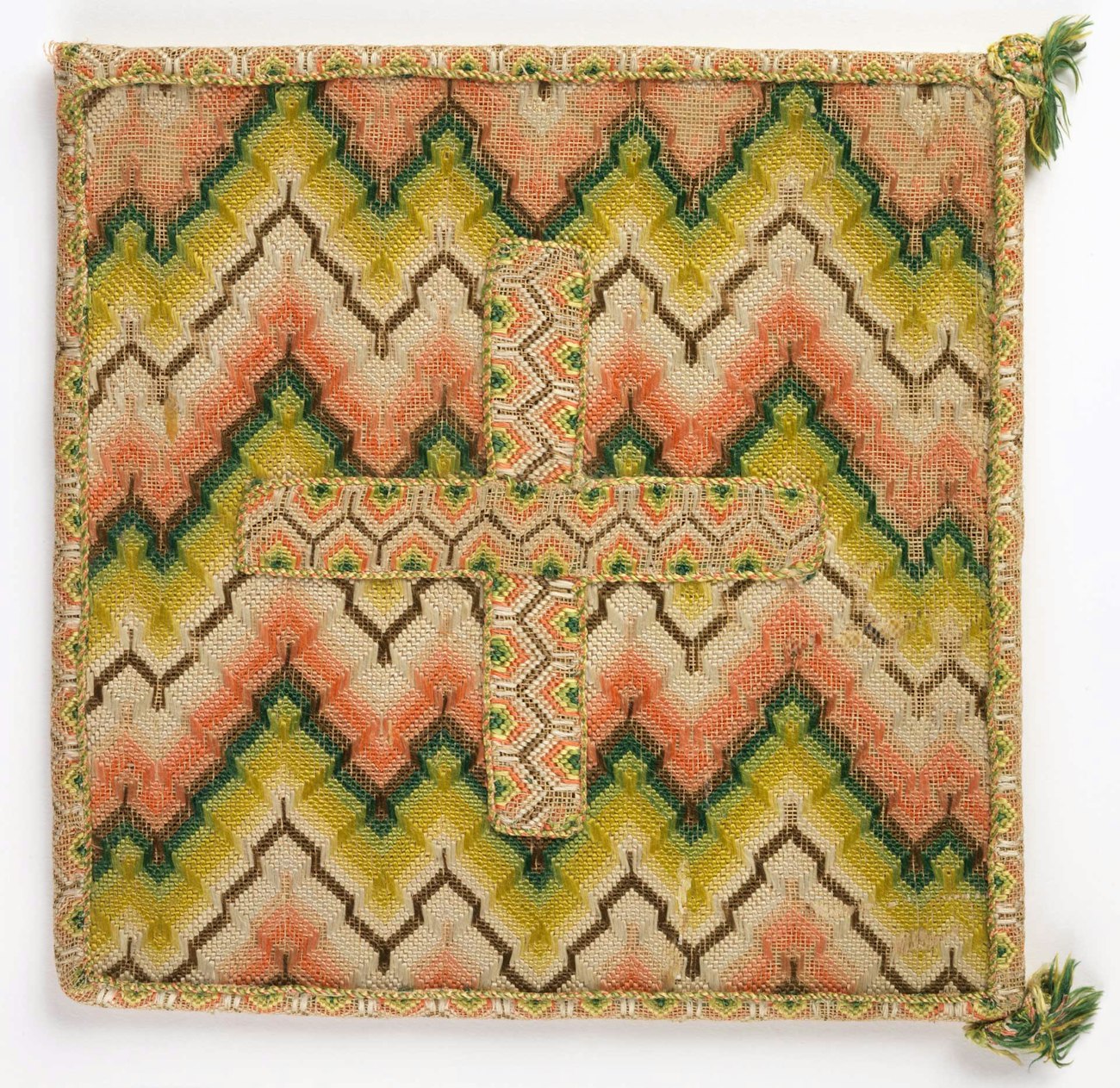 Burse with cross created in wool and linen, European, nineteenth century. Courtesy of the Cooper Hewitt, Smithsonian Design Museum
Bargello's Revival
In the 1960s, we see a revival of the Renaissance in forms of bargello. The Old World style took on a contemporary look. Over hundreds of years, the variety of needlework stitches saw many adaptations. New products were introduced, and bargello went from being done on a linen base to a contemporary cotton canvas mesh base. The revival of traditional patterns was then translated in many color variations, as yarn dyeing became more sophisticated. Traditional designs were modernized, and new influences were apparent: Asian, English, French, Pennsylvania Dutch, and designs from op art, early American coverlets, and Navajo rugs, to name a few. We even see crossover to a popular use of the bargello pattern in quilting. In keeping with Phelan's surmise about life during the Renaissance, perhaps the uneasy times of the sixties and seventies in the United States had a similar impact on the desire to gravitate to freedom, yet with goals of order, control, and equilibrium.
I would be remiss if I didn't acknowledge the grand dames of the bargello movement in the 1960s and 1970s. I surveyed my collection of bargello books, most with publishing dates in that era, and the names include Elsa S. Williams, Margaret Boyles, Pauline Fischer, Anabel Lasker, Dorothy Kaestner, Joyce Petschek, Barbara Snook, Millie Hines, Erica Wilson, and Dorothy Phelan. I would like to respectfully recognize their expert contributions in documenting this needlework art and establishing a notable level of legitimacy and endurance of this technique.
I might ask the reader to reflect on our current world situation and ask, are we also experiencing a period of distinct cultural change in which our need to establish a sense of equilibrium might manifest in a revival of the bargello needle art form?


Left: Sample of an early American coverlet design, stitched by Linda Perry. Center and right: "New" bargello: Persian yarn that has been handpainted to create a variegated look gives the bargello piece more depth than it would have with commercial, saturated yarns.
If you would like to read the full article and see more of Linda's work check out the PieceWork Spring 2022 issue.
Also, remember that if you are an active subscriber to PieceWork magazine, you have unlimited access to previous issues, including Spring 2022. See our help center for the step-by-step process on how to access them.
Notes
Elsa S. Williams, Bargello: Florentine Canvas Work (New York: Van Nostrand Reinhold, 1967), 4–5.
Williams, Bargello: Florentine Canvas Work.
Linda M. Perry holds degrees in textiles/apparel design and a PhD in education. She had a long career teaching in higher education. She currently lives on a small island in Midcoast Maine and owns and operates a yarn shop in Damariscotta, Maine. She sells her own line of hand-dyed yarns, specializing in indigo. Her book, Back to Bargello, is the result of her love for needlework and was a driving force in her desire to revive bargello stitchery. Learn more at harboryarns.com.