I adore vintage and antique needlework accessories, and the ones that most captivate me are the needle gauges that were made in my own country, Australia. These small notions reflect the country's social history of knitters and knitting. A needle gauge is a way to ascertain needle diameter: test your needle by inserting it into each of the pierced holes that cover the gauge's surface until you have found a proper fit. The number next to the hole represents the size of the needle.
The number of holes and their range of sizes represent the range of knitting needles most in use with the wools popular in that era. Early gauges demonstrate the small sizes that were once used for very fine knitting and are still valuable today to the contemporary knitter wanting to use an old pattern. The materials they are made from also reflect the owner's affuence or lack thereof. Imperial measurements on gauges are a vestige of early Australia's Anglo-centric culture, while those with metric measurements date to the 1960s and later.
Twentieth-Century Beginnings
In 1920, British textile companies J & J Baldwin and Partners and John Paton, Son & Co. merged, creating Patons & Baldwins, who opened their first overseas factory in Tasmania, Australia. Production began there in 1923, and one new line was yarn devised specifically for home knitting. Like many yarn producers, Patons & Baldwins recommended the use of their own needles for their patterns, and they made gauges to measure them to achieve the best result.
Their distinctive beehive-shaped gauges have the holes (sizes 1–18) inside the body of the beehive and were available in many colors. The 1930s gauges, such as the yellow gauge, remind you to "Use Patons Knitting Wools" in small capitals; later gauges repeated the same message but used a larger font, as in the purple gauge. Patons also made a ruler/row counter and slide needle gauge (sizes 0–17) in metal. These are thought to have been made in the late 1920s, perhaps before the Baldwin's beehive became the favored motif.
Another British business that embraced the knitters of the antipodes was Stratton, whose main brand in the UK, and later in Australia, was Stratnoid. Their Sydney subsidiary was established in the 1920s and named Rainsford, after the founder of the company in Australia. They produced rectangular plastic gauges with sizes 1–17. Rainsford also produced bell-shaped gauges in anodized metals and aluminum (sizes 1–22) with the Rainsford name printed around the top hole of the bell. The needle slots are arranged around the bell's outer rim. Wondoflex, another manufacturer, is a well-known Melbourne retail shop, even today.
Garnite's Bakelite triangular needle gauges offered a colorful range in the 1950s. These were made by Australian Consolidated Industries in Melbourne, which also produced a large range of domestic plastics.
From Gauges to Marketing Tools
Circular disc gauges made of light metal and marked Keepair NEEDLE GAUGE REGd. APO were possibly lids for cardboard tubes of wool or knitting needles. They are thought to date between the 1930s and 1950s. So far, no corresponding cardboard containers have been found by avid collectors. The discs offer a needle range of sizes 5–16, presumably representing the specific sizes that such a tube might have held.
In the 1950s, rectangular boxes for storing needles, with a needle gauge incorporated in the lid and a 12-inch ruler along one edge, were made by Moldex and Continental Plastics (sizes 00–16). The inclusion of larger needle sizes reflects the increased popularity of thicker yarns. Continental Plastics also made the boxes used by Hoadley's, a confectionery company started in Melbourne in the 1890s. From the 1930s, Hoadley's promoted themselves using many decorative plastic and cardboard boxes, which have become quite collectible today. Their needle boxes combined different colored lids and bases.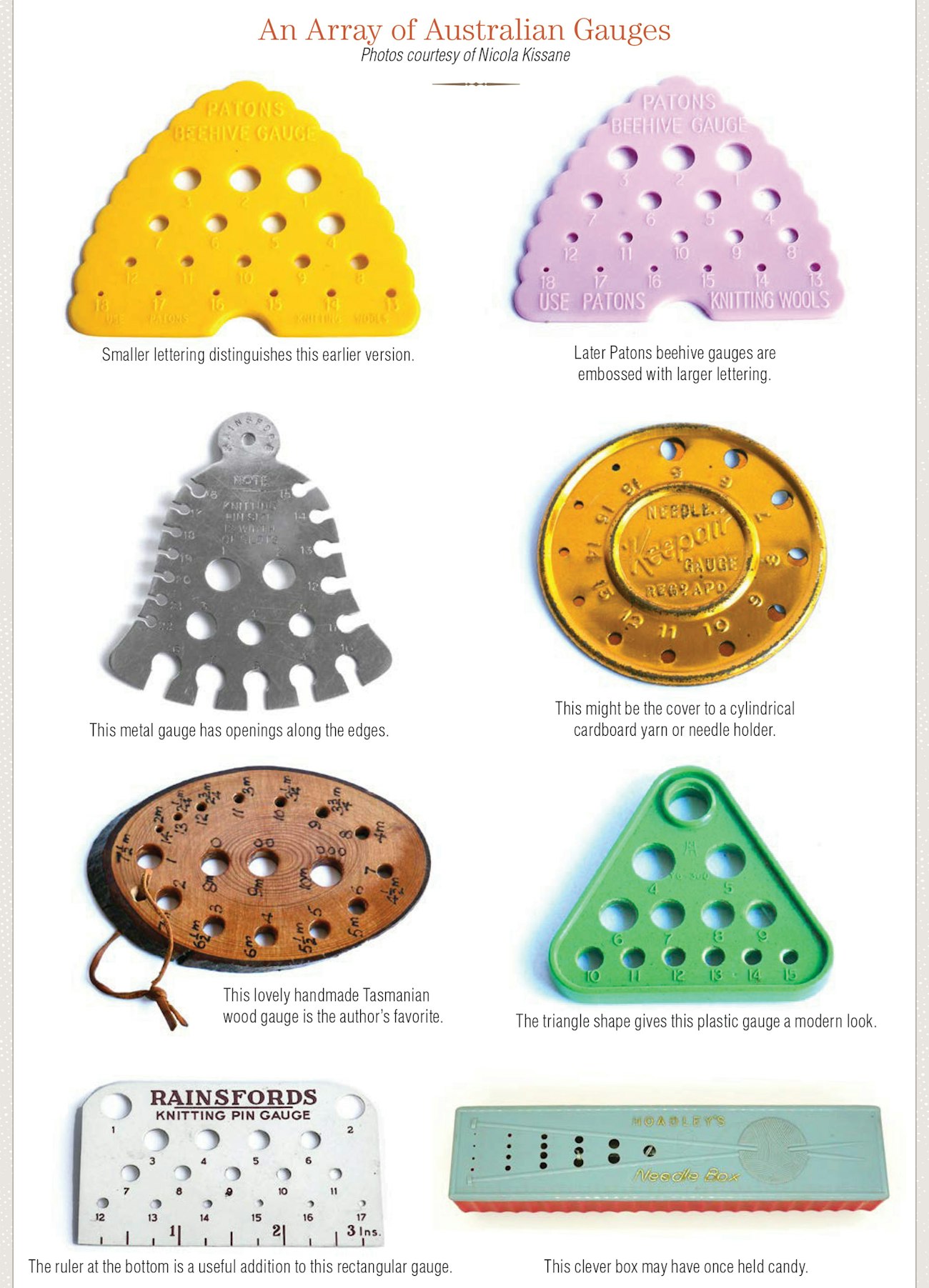 Gauges New and Old
A favorite in my personal collection is a handmade oval gauge, with sizes in both imperial and metric, made from a slice of Tasmanian horizontalis wood. This is marked in imperial (000–14) and metric (10–2 mm) sizes and has a leather loop to keep it at hand. Needlework object collectors will be enchanted by the extraordinary variety of gauges, both old and new, that were manufactured in Australia from all types of native and non-native materials.
Fascinated by vintage tools? This article and others can be found in the Winter 2022 issue of PieceWork.
Also, remember that if you are an active subscriber to PieceWork magazine, you have unlimited access to previous issues, including Winter 2022. See our help center for the step-by-step process on how to access them.
RESOURCES
W. Gibson & Son. The Scone Merinos Owned and Bred by Messrs. W. Gibson & Son. Launceston, Tasma nia: W. Gibson & Son, 1883.
Webster, Susan. Knitting Needle Gauges: New Finds. With Joyce Poynter and Sheila Williams. Surrey, UK: Dorset Thimble Society, 2017.
Webster's Knitting Needle Notions, knitting-needle-notions.com.au.
Williams, Sheila. The History of Knitting Pin Gauges. Cambridgeshire: Melrose Books, 2006.
Nicola Kissane has lived most of her life in Melbourne, Australia, where she trained and worked as a nurse and raised her four children. In 2012, she joined the Needlework Tool Collectors Society of Australia and is now Vice President of their Melbourne group. Pursuing her appreciation of Australian needlework, she has published two booklets: History and Stitchery of Tasmania (2017) and History and Stitchery of Victoria (2021).