The halo of strawberries caught my eye. Such pretty little things! They looked so lifelike—fully ripe most of them, surely sweet and succulent—and so tempting. It seemed I could pluck them off the doily on which they were embroidered and pop them into my mouth. I did something wiser instead. I paid the charity shop volunteer the $5 price marked on the tag and happily headed home. I have since learned that my "find" is a piece of art silk embroidery or society silk embroidery—a needlework treasure like those illustrating Donna Cardwell's excellent reference, Silk Art Embroidery: A Woman's History of Ornament & Empowerment (Atglen, Pennsylvania: Schiffer Publishing, 2008).
With its focus on meticulous, true-to-life interpretations of natural subject matter, silk art embroidery was popular in America from 1877 to 1907. It then experienced a gradual decline; enthusiasm for the genre finally evaporated in 1912. Flowers led the parade of favorite motifs: more than a dozen different roses alone topped the list, with all other varieties of flora ranking far behind. Fruits and vegetables, leaves, acorns, and seashells were frequently featured as well. Arts and Crafts designs and other motifs that were stylized interpretations of subjects with organic origins were popular to a lesser degree, followed by ecclesiastical symbols and emblems of fraternal organizations, such as the Knights of Columbus and Freemasons.
Lustrous "wash silk" was the thread of choice for silk art embroidery. The name came from the properties of the silk that allowed it to be washed with little or no bleeding, an important quality in thread used for embroidering table linens and other items that would be laundered frequently. Wash silk was available in various weights, stranded and twisted, and in literally hundreds of colors from Brainerd & Armstrong Company, Richardson Silk Company, Corticelli Silk Company, Belding Brothers & Company, and others. To make obtaining silk threads easy and more affordable, some thread companies offered incentives, including credit toward future purchases to customers who returned wrappers from previously purchased threads. Company-sponsored contests also proved to be great buying incentives.
Linen was the traditional ground fabric, with white the foremost color choice before the turn of the century, ecru and brown after. The preferred linen was generally finely woven (an evenweave fabric was not crucial because threads were not counted). Cuts of linen prestamped with ready-to-stitch motifs, often available in matched sets of several sizes, could be purchased as could plain linen and stamping kits.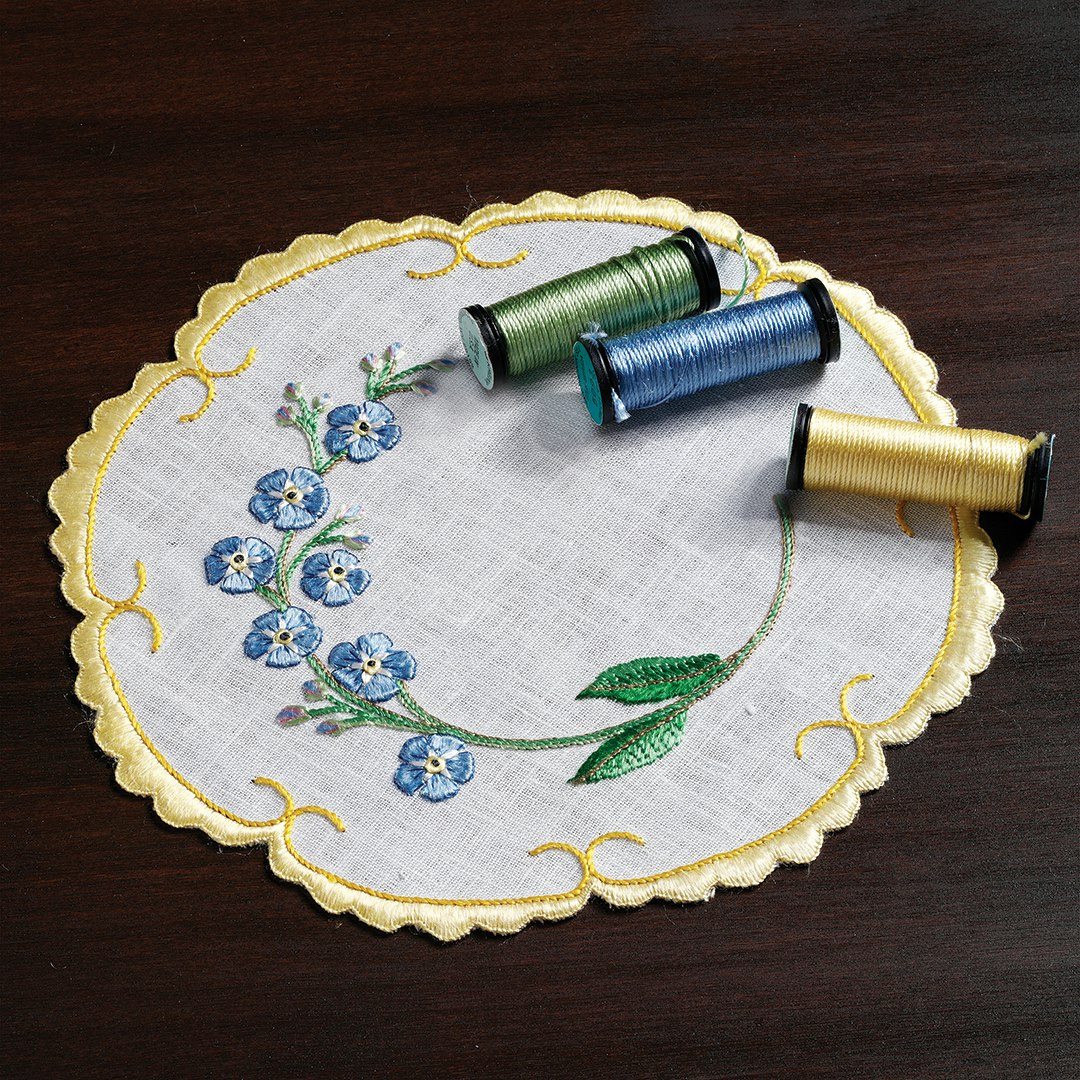 Mary's Forget-me-not design pattern
Interested in creating your own silk embroidery? The full article and a companion project can be found in the November/December 2016 issue of PieceWork.
Also, remember that if you are an active subscriber to PieceWork magazine, you have unlimited access to previous issues, including November/December 2016. See our help center for the step-by-step process on how to access them.
Mary Polityka Bush of Piedmont, California, is continually on the lookout for new-to-her types of embroidery. Her impulsive thrift-shop purchase of a society silk doily, simply because the strawberries embroidered on it are so sweet and appealing, launched her into research, which became a revelatory experience. The expertise required to execute the typically botanical designs well increased her admiration for the women who enjoyed this type of embroidery as a leisure activity and engendered a deep respect for those in the needlework sisterhood for whom it became a way to make or supplement their living expenses.
Originally published February 13, 2017; updated May 31, 2023.