In 1996, the Estonian weaver, educator, and writer Anu Raud had the idea of using knitted animals decorated with traditional Estonian patterns and colors to educate Estonian children about their culture and traditions. Today, as children play with these toys, they also are learning about their heritage.
Raud spent childhood summers at her grandparents' farm, Kääriku, in Heimtali village near Viljandi, wandering the woods, picking berries, and visiting her farm animal friends. Handwoven blankets, knitted mittens, and handsome wood tools were part of rural life in Estonia.

Today, Kääriku, a blend of modern and traditional farm life, is Raud's home. The house is filled with antique furniture and colorful woven rugs; bright coverlets adorn the beds. The garden is a wonder of flowers in summer. Raud, a tireless promoter of Estonian folk art, crafts, and culture, believes that farm life "is the most natural environment for safeguarding what is inherent for Estonian lifestyle today and hopefully will be in the future."
Nearby, the Heimtali Museum, founded by local folklore researcher Johannes Kook and managed by Raud since the early 1990s, occupies a rock and brick building that was once the local school. Its collections include school desks with small slots for the inkwells, photographs and documents that record the area's history, tools and farm implements, and the textiles and folk art that Raud has spent her lifetime collecting: the traditional and colorful striped skirts from the island of Kihnu, dozens of knitted mittens and gloves decorated in Estonian patterns, and clothing and household linens embellished with embroidery.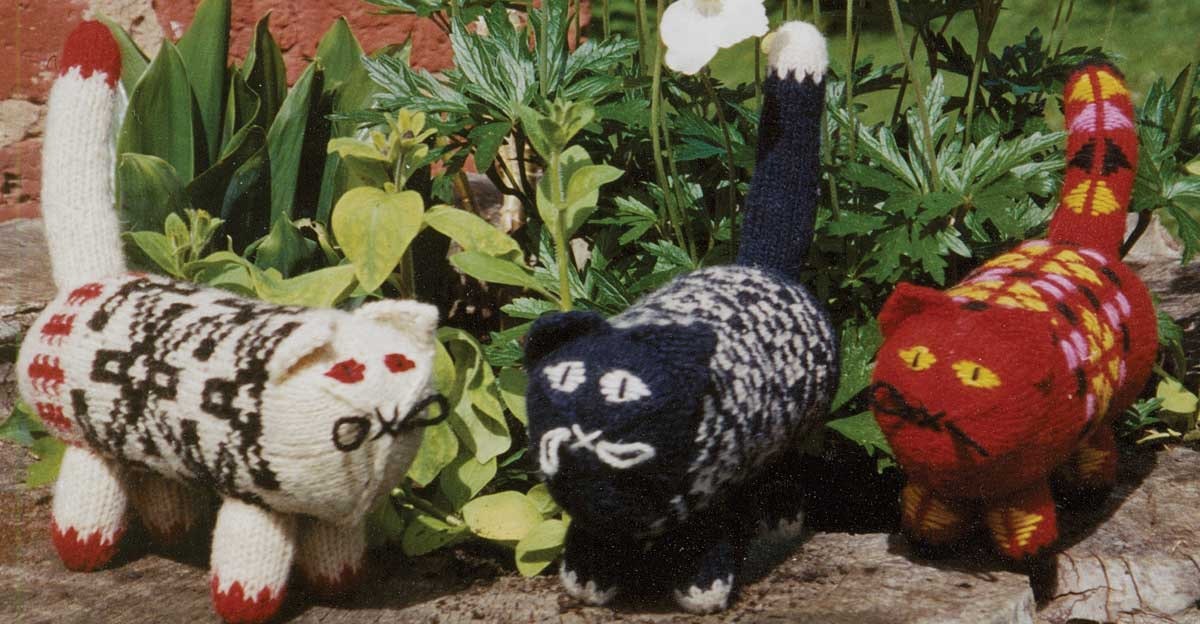 The animals occupy a room of their own. Among these are knitted pigs and dogs, cats and foxes, fish, horses, and mice. Each figure has a unique personality. No written patterns are used to create these animals. The creative knitters who make them for the museum use only their imaginations and experience. Each animal is knitted with wool yarn and stuffed with sheep's fleece, bits of scrap yarn, or yarn from knitting that was ripped out.

The income from the sale of the knitted animals helps to support the museum in continuing its mission of safeguarding Estonia's cultural treasures. For Anu Raud, these animals represent a part of her contribution to the advancement and protection of Estonian folk culture.
Further Reading
Reinholm, Vilma. Anu Raud. Tallinn, Estonia: Eesti Entsüklopeediakirjastus, 2002 (in Estonian and English).
Nancy Bush, a member of PieceWork's editorial advisory panel, is the author of numerous books, including Folk Knitting in Estonia (Interweave 2000).
This article was published in the November/December 2003 issue of PieceWork.