Editor's Note: These slippers will be perfect for your next flight and will make terrific gifts for the travelers in your life. Enjoy your free PDF download of this project, and be sure to check out Cynthia's companion article to this project, "The Amazing World of Vietnamese Silk Embroidery," in PieceWork November/December 2016.
A Note from Designer Cynthia LeCount Samaké
A friend called me to say she had thousands of expiring miles from her frequent-flyer program and what did I think about making a trip to Vietnam? Naturally, I was thrilled with the offer. Not much later, she texted: "I regret to inform you that there are no more regular seats, so we have to go business class!"
A few weeks later, we were in the air. For the sixteen-hour-flight to Hanoi, we slept lying down in cozy pods, watched the latest movies, and ate real meals with real silverware. Cathay Pacific provided airplane socks, but at one point, when I ventured into the bathroom, it looked like someone had tried to take a splash-bath. I put down a layer of paper towels, but my socks and feet still got wet. Back in my pod, I peeled off the socks and vowed to find a better way!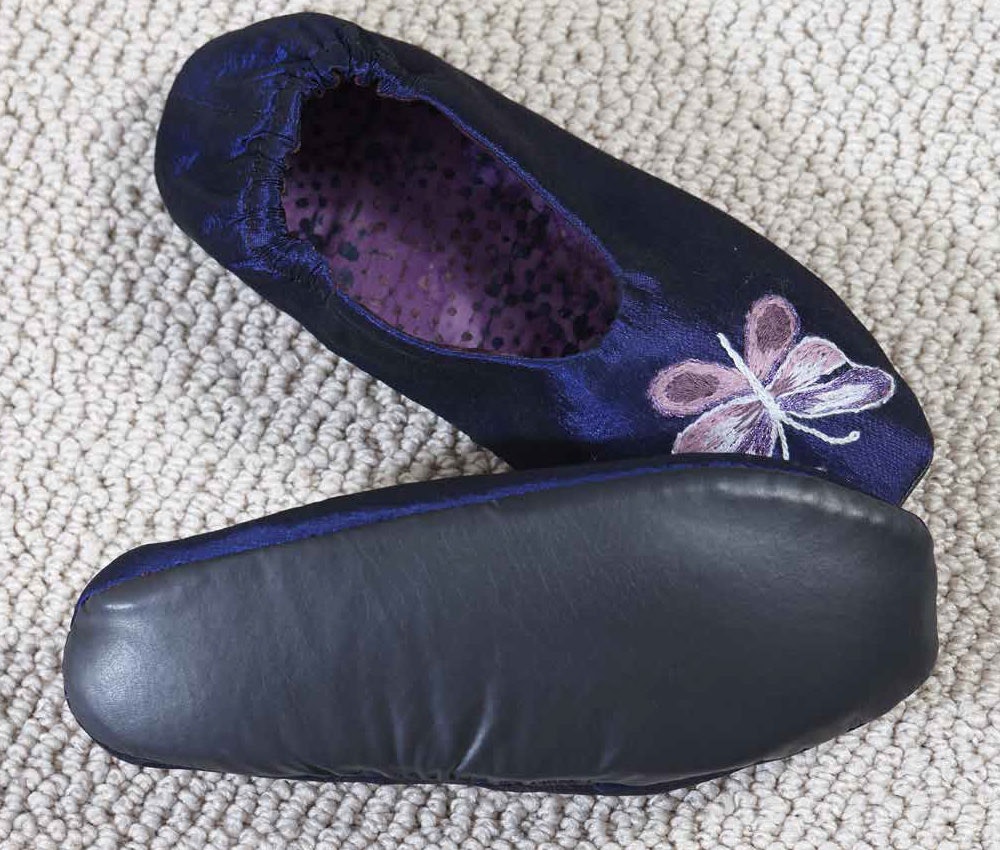 The Naugahyde sole on the slippers will keep your feet dry in most airplane situations. Photo by Cynthia LeCount Samaké
These comfortable slippers will keep your feet dry in most airplane situations. The exquisite Vietnamese embroidery we saw everywhere during our trip inspired the designs, and butterflies seemed appropriate for flight slippers. A variety of embroidery flosses are suitable for stitching the butterflies.
~Cynthia
The complete instructions for making Cynthia's slippers and pattern pieces are available here, or you can click the download button below.