Katherine Durack found inspiration from the Suffragists efforts to raise money for their movement from their craft fair work. Current PieceWork magazine subscribers can log in and instantly access this bonus subscriber-exclusive PDF download below.
Notes on the December 1900 Suffrage Fair
The "suffragists of the country, the home wreckers, the unsexed, the women who have lost all feminine instincts," expounded the New York newspaper The Sun, "are hard at work dressing dolls, fashioning baby clothes, embroidering doilies, painting calendars, crocheting and knitting" for a national fair to raise funds for women's suffrage. As stated by New York's The Sun newspaper:
The best joke of all is that the editor of the oldest and largest suffrage paper in the country keeps a pile of wash-cloths beside her, and in the intervals between writing editorials she crochets a fancy edge on them. Unperturbed, that editor, Alice Stone Blackwell, reprinted the criticism in The Woman's Column in the September 8, 1900, edition beneath the headline "Knitting Versus Tobacco." The anti-suffragist argument was that the suffragists were doomed to failure because they filled their idle moments with needlework.
The article from The Sun continued: "A man who edits a newspaper edits a newspaper. Between writing editorials he smokes his pipe. . . . The woman editor crochets edges on wash-cloths! Of course this is one instance only, but I see similarities all through business life. . . . The truth is wash-cloths in the process of making have no place in newspaper offices. And until a woman learns the fit place for everything and then puts the things she has charge of in those fit places, she is not fit for any particular place."
Blackwell responded, "[T]he writer does not seem to realize that a woman editor may find as much real relaxation in plying her knitting needles as any male editor finds in smoking his pipe." She urged her readers: "[L]et us all keep on knitting and crocheting for the Bazar, sisters!"
The National Suffrage Bazar at New York City's Madison Square Garden was the first major project of Carrie Chapman Catt, newly appointed by 80-year-old Susan B. Anthony as leader of the National American Woman Suffrage Association (NAWSA). Modeling their efforts after the successful suffrage fairs held in Massachusetts since 1870, organizers of the fair called for participation from every state in the union, seeking "all sorts of saleable things." Donations poured in from across the country.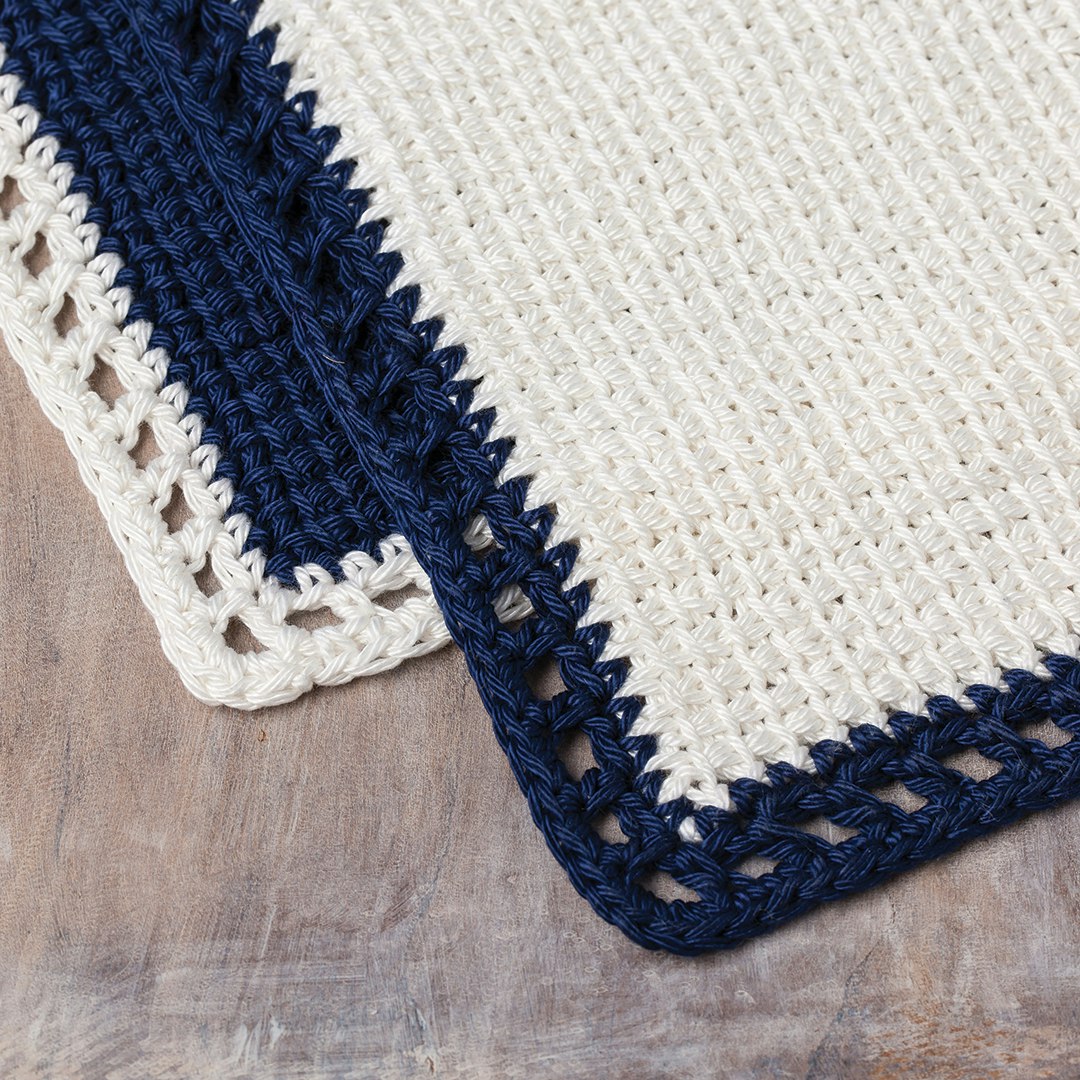 The blue-on-cream colors used for this washcloth were inspired by the color scheme for the official stationery of the National American Woman Suffrage Association.