Crepe paper is a ubiquitous, taken-for-granted craft material today, thought of largely in relation to party decorations. When it was first introduced in the 1890s, however, it was touted as a wondrous new cloth, suitable for costumes, household coverings, and many other uses. The Dennison Manufacturing Company, which was the first American manufacturer to produce this novelty material, boasted in one of its early instructional booklets, "Crepe Paper [is] one of the most valuable fabrics for decorative purposes yet placed upon the market."
Crepe paper takes its name from crêpe fabric, which is similarly characterized by a crinkled, wavy surface. The creping process adds strength and elasticity, and depending on the manufacturing treatment, a range of different effects can be achieved. It can be coated with a metallic surface, for example, or made to look iridescent. Turn-of-the-twentieth-century papers were varied and innovative, far more than anything on the market today. Some had tinted borders, others had tie-dye effects. Dennison's "floral crepes" had designs printed in colors and bronze.
The Debut of Crepe Paper
The material struck an immediate chord with the buying public. The novelty effects and brilliant hues were tantalizing. English manufacturers were producing 24 colors in 1897, but by 1906, Dennison offered as many 134 solids and 28 printed patterns. Crepe paper was also cost-effective. Dennison claimed it would "go twice as far as any other fabric of the same width" and could be used repeatedly. But much of its appeal was related to its disposability, and Dennison positioned it as part of the modern consumer society. "[It] costs so little," the company stated, that "it pays to throw it away."
Not surprisingly, medical applications were among the early uses for this would-be fabric. During World War I, both Dennison and Kimberly-Clark introduced a medical line hyped as "artificial cotton" and sold it for bandages. Dennison's ads stated it could be used for 75 percent of all surgical dressings, so woven gauze could be saved for only the most critical needs. By the 1920s, there were even disposable garments. The 70 visiting nurses of the Milwaukee Health Department, who adopted crepe-paper uniforms, claimed a uniform could be worn several times. A fresh one would be used after the nurse went to a home with a communicable disease.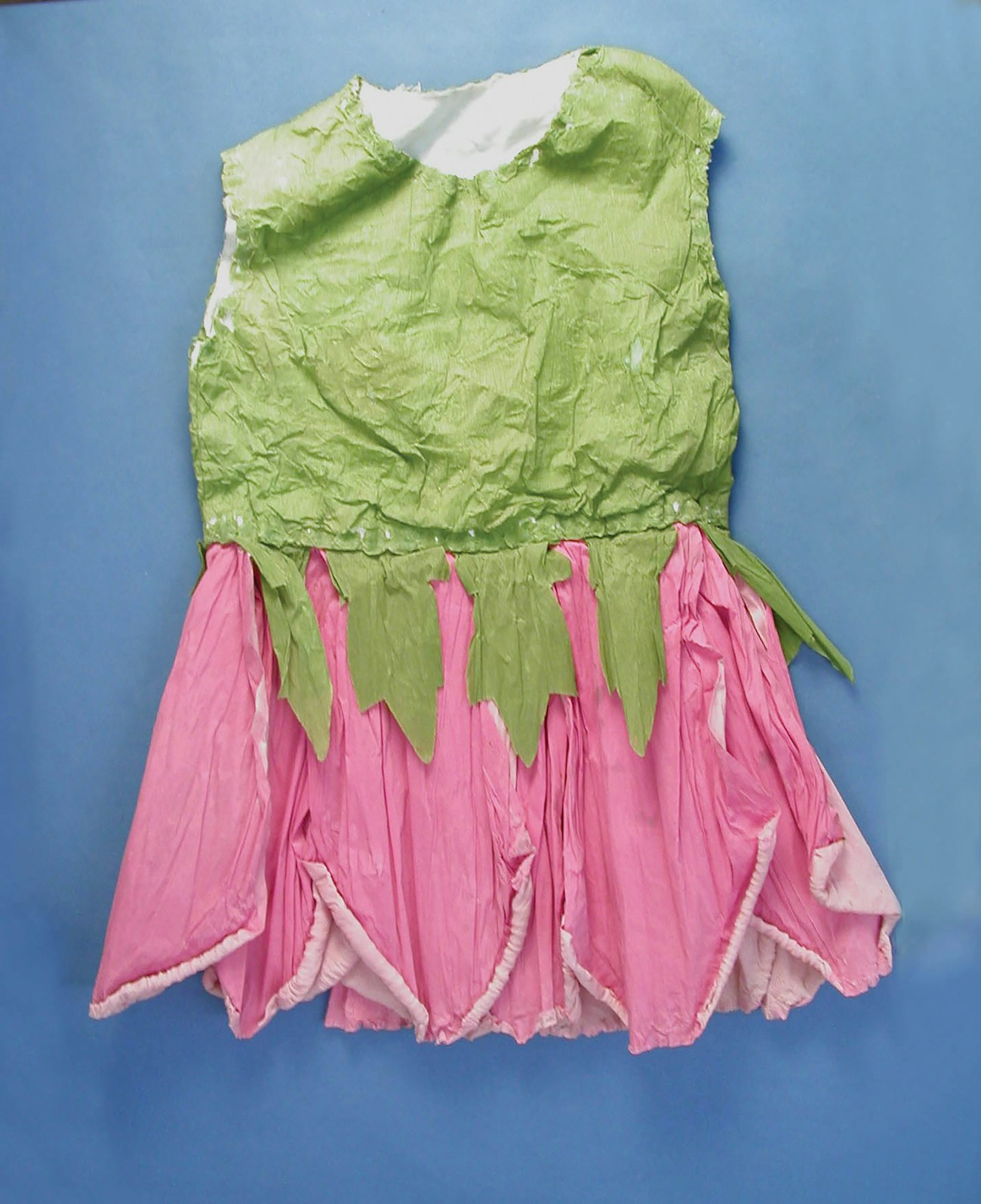 Crepe-Paper Crafts
Practical applications of crepe paper were never as significant as its use as an art medium. Almost immediately upon the introduction of the product, the Buffalo-based Heath sisters made a name for themselves as fashioners of decorative crepe-paper items. They gave demonstrations in Dennison outlets and department stores and for a time seemed to function as the Martha Stewarts of their day. Their audience was overwhelmingly female. One of the earliest written instructional features, "The Possibilities of Crepe Paper," appeared in the popular women's publication Ladies' Home Journal in 1894. The 1911 Dennison's Crepe Paper and Its Uses reinforced the idea, stating, "this little book is of interest most especially to women," and crepe paper is "indispensable in the hands of milady."
The Ladies' Home Journal article featured projects for the home, including draped dressing (toilet) tables, bed canopies, and portieres that used yards and yards of the material, and table decorations that promised to make fancy entertaining simple and affordable. (A "tulip luncheon," for example, included tulip-shaped lampshades, cupholders, place mats, table favors, and more.) Decorating the home in this way, where little or no sewing was required, also fit the latest modern sensibilities. Women's lives were changing, as many middle-class individuals were increasingly participating in public life and had less training or skill in the domestic arts. Crepe-paper items could be made quickly, often with just glue, or at most, a simple basting stitch. The material did not fray when cut, and it had other attractive properties, such as holding a ruffled shape or the ability to be twisted into a thick yarn or rope.
Growing Popularity
Crepe paper's popularity grew even stronger in the 1920s. Dennison was a creative marketer, featuring instructional radio broadcasts, home-study courses, and a series of illustrated booklets. The company consistently positioned the material as something associated with leisure, pleasure, and lightness. As early as 1911, they touted crepe paper as especially suitable for summer homes—it was pronounced "cool and refreshing" and easy to take down after a single season. It could also transform household objects into something more fanciful—something more feminine looking. Flowerpots and wastebaskets could be draped with color and bows; lamp- and candle shades could be made to match the décor of any interior. (Lamp- and candle shades were typically attached to a holder that kept the paper away from flames.) The translucent effect of light shining through the brightly colored paper was popular for the new electric light fixtures as well; in 1908 Dennison's Dictionary advertised it, in fact, as a ". . . pleasing way of toning down the 'harsh brilliancy' of such illumination."
Crepe-paper flowers were themselves enormously popular. Chrysanthemums, roses, tulips, and violets were among the favorites, and as the list implies, the varied paper hues were part of the appeal. Instructions for flower-making explained how to work with the grain of the paper, how to curl petals over a knife, and so on. By the late 1920s, one could order booklets with patterns for sixty-eight different flowers.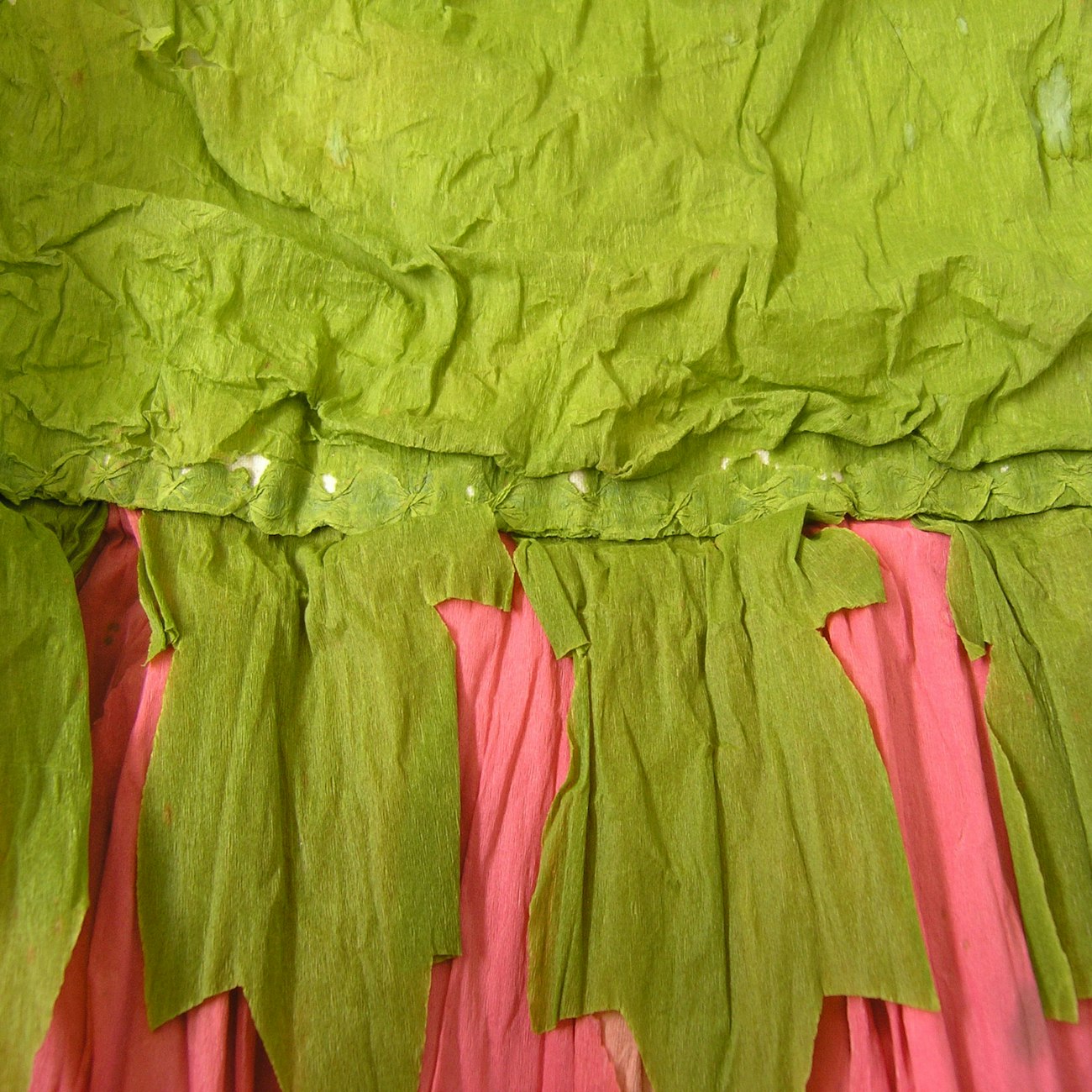 Parties and Decoration
The association with leisure and play—the association we still hold today—was demonstrated by Dennison's continued emphasis on party accouterments. In 1927, they introduced a bimonthly magazine, Dennison's Party Book (later, simply Parties), aimed at hostesses who wanted to make their own affordable entertainments. Projects focused on outfitting the space—decorating the room and, most importantly, the table; fashioning equipment for games or amusements; and making party favors and costumes. The table was always the center of attention. It would be covered with crepe-paper cloths or mats tailored to the occasion, and with throwaway napkins. Novelties such as the "Jack Horner" were popular. Based on the nursery rhyme where Jack Horner put his thumb in a pie and pulled out a plum, this was a form of "favor pie." Small wrapped favors were hidden in paper-covered containers, which, like piñatas, were broken open to reveal the treats. The most elaborate version was made as a huge flower, hung above the table and outfitted with pulling ribbons that would be tugged at a given signal.
An important element of early twentieth-century parties was dress-up, or costuming, and paper garments seemed perfect. Soon, there were so-called paper parties, where floral outfits prevailed. A daffodil costume, for example, would have over-and-under skirts covered with flounced yellow paper and a matching paper cap. Typically, the skirt represented the petals, and the bodice represented the stem (the hat was a separate specimen). Most often, the paper was attached to a muslin slip or fashioned as an apron-like garment that would fit over regular clothes. Other types of suggested outfits included butterflies; vegetables such as pumpkins, corn, and carrots; storybook characters; "national costumes" such as French Peasant, Chinese, etc.; and personifications of the elements such as "Fire" or "The Breeze." Narrow streamers attached to the latter outfit would move with every step the wearer took, "resulting in a graceful swinging" outfit. The 1920s seem to have been the height of the paper-costume craze. Since current fashion favored simple waistless dresses, such garments were easy to make and wear.
In these early years, crepe paper was also sometimes used as a substitute for regular garments, as the Milwaukee nurses' uniforms imply. While these were expected to be short-lived, sewn-in components such as hooks and eyes indicate they were not completely ephemeral. Fashionability was also expressed through outfits made for paper dolls. Some of the surviving examples are quite stunning. It is unclear whether these were made by children or adults.
Suitable for Fairs and Parades
Crepe paper was dominant at many of the more public aspects of play and entertainment in the early twentieth century. It was widely used to adorn bazaar or fair booths, for example, and on parade floats. How to Decorate Halls, Booths and Automobiles, published about 1920, showed how to transform architectural features through masses of paper, color, and texture (this idea remains familiar today—the image of transforming the school gymnasium with crepe paper is still with us). Even cars and trucks could be made festive and fanciful with paper swags and paper wound around wheel spokes. I first encountered this in an early (circa 1900) Dennison publication that illustrated an imagined summer vacation with crepe paper incorporated into daily life. The fictional family boasted of winning the prize for a unique parade carriage (not yet motorized), where everything—the wheels, the carriage, the horse's bridle—was adorned with paper. The illustration also featured a woman pushing a heavily papered baby carriage.
Booth, hall, and float decoration was conceived of as a total environment, and it was also matched—often in a literal sense—by the costumes of the attendants. At the "Fair of the Good Fairies" featured in Ladies' Home Journal in 1916, as a case in point, women outfitted as "Lady Winter" (or "Lady Summer") were draped in the same fabrics as their booths.
By the middle of the twentieth century, crepe paper was no longer produced or treated as a fabric; it was then clearly seen as paper. It is interesting to look at the perceived promise of the original material, however, and see how it both reflected and contributed to changing attitudes and lifestyles, including disposability. It is significant, too, that its strong aesthetic, sensual appeal was always touted as part of woman's domain and that it was primarily women who explored its possibilities to the fullest.
You can find this article and others in the Spring 2020 issue of Piecework.
Also, remember that if you are an active subscriber to PieceWork magazine, you have unlimited access to previous issues, including Spring 2020. See our help center for the step-by-step process on how to access them.
Resources
"Crepe Paper's 'Eye-Delights' and Disposable Domestic Creativity," Object Stories, Disposable America. www.disposableamerica.org/crepe-papers-eye-delights-and-disposable-domestic-creativity-1890-1933
Dennison Manufacturing Company. Art and Decoration in Crepe and Tissue Paper. 23d ed. Framingham, Massachusetts: The Dennison Manufacturing Company, 1917.
Dennison's Dictionary. Framingham, Massachusetts: The Dennison Manufacturing Company, 1908.
How to Decorate Halls, Booths and Automobiles. Framingham, Massachusetts: Dennison Manufacturing Company, 1923.
How to Make Paper Costumes. Framingham, Massachusetts: Dennison Manufacturing Company, 1922.
Fales, Winnefred, and Mary H. Northend, The Party Book. Boston: Little Brown & Co., 1926.
Gordon, Beverly. Bazaars and Fair Ladies: The History of the American Fundraising Fair. Knoxville: University of Tennessee Press, 1993.
Gordon, Beverly. "'One of the Most Valuable Fabrics': The Seemingly Limitless Promise of Crepe Paper, 1890–1935," Ars Textrina 31 (1999), 107–144.
The Saturated World: Aesthetic Meaning, Intimate Objects, Women's Lives, 1890–1940. Knoxville: University of Tennessee Press, 2006.
Beverly Gordon is a writer and artist committed to helping people appreciate both the material and inner, intuitive worlds. She is professor emerita in Design Studies at the University of Wisconsin-Madison, where she taught textile history and material culture for thirty years. She is the author of numerous books and articles, including Textiles: The Whole Story—Uses, Meanings, Significance (2011) and Shaker Textile Arts (1980).
Originally published May 25, 2020; updated May 6, 2022.