In 2013, I thought I was ready to re-enter the workforce after spending time at home with my daughters for the previous nine years. Luckily, a friend worked for Interweave and suggested I apply. Somehow, I landed the position and had a spot in the converted bank building on 4th Street. I was meeting the people I had seen in the magazines and was interacting with them. Walking by Linda's office was an awe-inspiring experience, even though in reality I had no idea what I was doing. That lack of knowledge and extreme signs from the universe told me to be patient and that I was still needed elsewhere. As the quote from Don Quixote goes, "When one door is shut another is opened." That door was becoming a contributor.
My first design, Lyanna's Shawl from Knitting Traditions Fall 2013, was created in honor of Galina Khmeleva as she taught me the Orenburg tradition. Sometimes I had ideas that fit the issues and sometimes not. I would send them in regardless of their connection to history and sometimes the editor, Jeane, would reach out and ask if I had time to make something quick. I thought at the time that I was working to make a name in the craft world. Now looking back, I realize that I was searching to become a part of something greater than myself. To find a community that shares a language and understands what it means to create something with your hands.
My collection of PieceWork and special edition magazines with contributions. Can you spot my two covers?
And now we are here, in 2023, ten years and several magazine issues later. A little older, a little wiser, and still creating with my hands. My daughters are stepping out onto their own paths as seniors in high school and college, and I am back to where the dream began, this time as a part of Long Thread Media. Continuing to share and explore the nature of what we do with our hands and the community it brings together.
The Heraldic Rose Biscornu Pincushion to Stitch was my first needlework pattern to be published in PieceWork magazine. It is based on the Tudor Rose of England that also represents the five stages of a woman's life: child, maiden, woman, mother, and crone.
To celebrate, we've selected this special pincushion design and made it free to everyone through June 19, 2023.
You can find the free pattern, Heraldic Rose Biscornu Pincushion to Stitch, in the PieceWork Library. All you need to do is create a free account if you haven't done so already. (If you're a magazine or All Access subscriber to PieceWork, you'll have access to even more in the library!)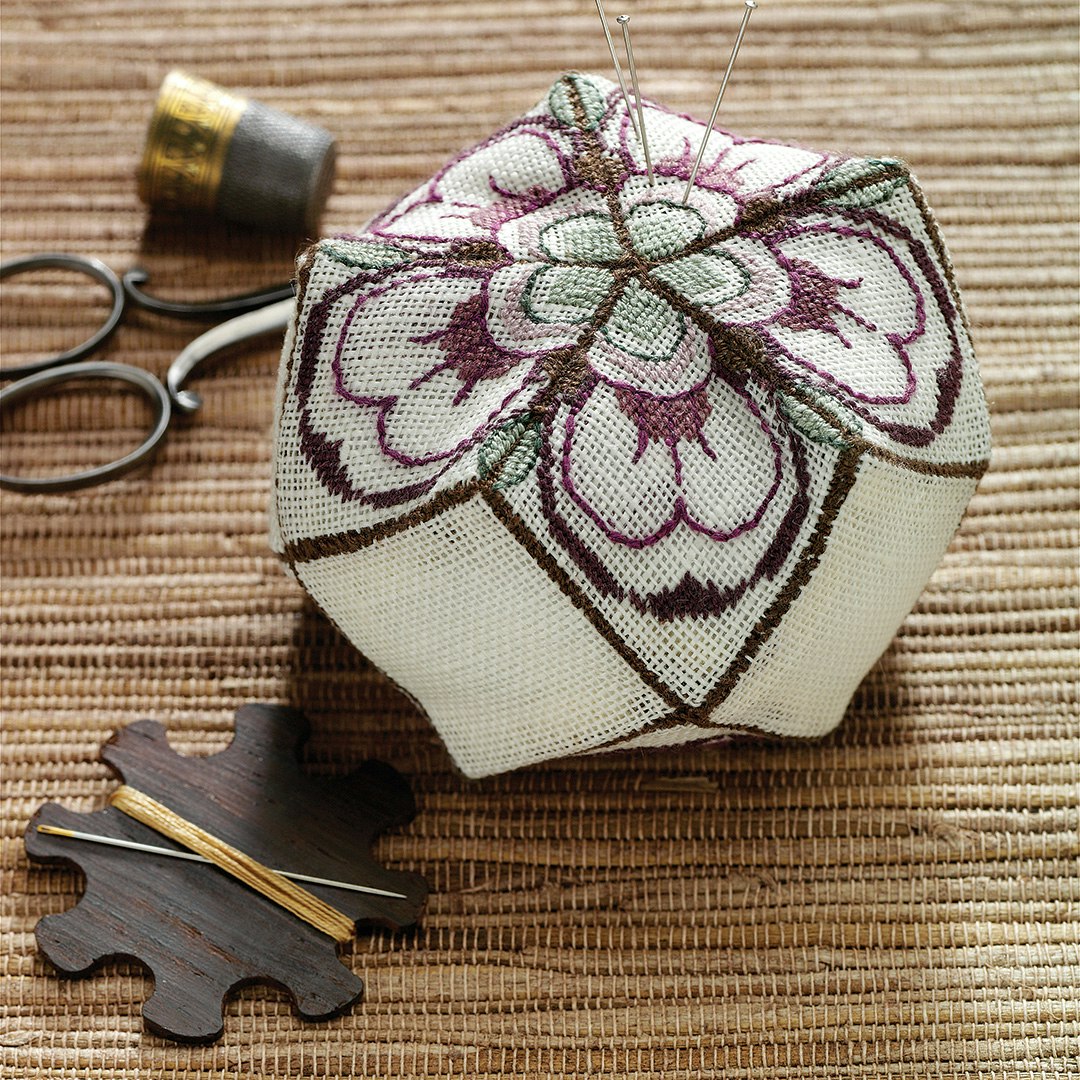 The Heraldic Rose Biscornu Pincushion to Stitch, threads available at Treenway Silks
Interested in more pincushions? Find more of them in the March/April 2015 issue of PieceWork.
Also, remember that if you are an active subscriber to PieceWork magazine, you have unlimited access to previous issues, including March/April 2015. See our help center for the step-by-step process on how to access them.
As our readers, you are also a part of this rich community and we love to hear from you! Share your stories and projects with us here or take the leap and become a contributor by filling out our submissions form.
Katrina King is the editorial assistant for Long Thread Media and a continuing student of craft and life.