In honor of Associate Justice Ruth Bader Ginsburg of the Supreme Court of the United States, we have assembled a few of our favorite lace collars from the pages of PieceWork. Lace has steadfastly remained a favorite topic among PieceWork readers, contributors, and staff. From centuries past to the modern-day attire of a supreme court justice, the timeless allure of lace continues to captivate and amaze with its striking yet ethereal nature.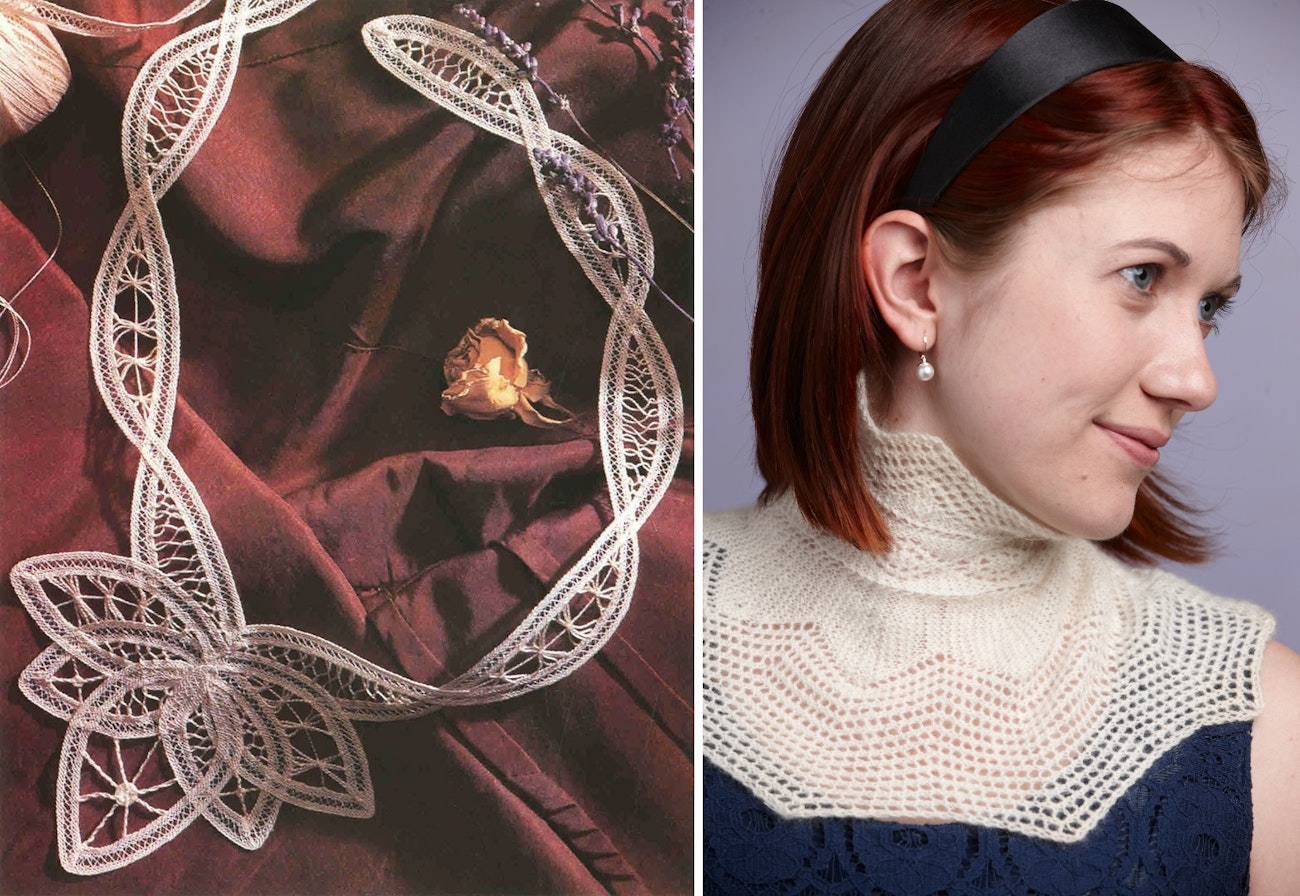 A Battenberg Lace Collar to Stitch by Jane Viking Swanson, PieceWork September/October 1995 (left).The Vandyke Collar to Knit by Rebecca Blair, PieceWork July/August 2011 (right). Photo by Joe Coca
A Battenberg Lace Collar to Stitch
"Battenberg lace consists of a framework of purchased fabric tape connected by and filled with needle-made bars and lace fillings. A gathering thread that runs along each side of the tape is pulled up to adjust the shape of the tape to match a pattern drawn on heavy paper. After basting the shaped tape securely to the pattern, you work the fillings with needle and thread. The fillings are worked from the wrong side, and it's not until the piece is finished and the basting removed that the right side of the work becomes visible. Jane Swanson's elegant necklace requires only basic needlework skills and is easily completed in a weekend." This stitched piece by Jane Viking Swanson can be found in the September/October 1995 issue of PieceWork.
The Vandyke Collar to Knit
"The Vandyke Collar, No. 110, on page 335 of Home Work. A Choice Collection of Useful Designs for the Crochet and Knitting Needle. Also, Valuable Recipes for the Toilet (Toronto, Ontario, Canada: Rose Publishing, 1891) intrigued me because of the photograph that accompanies it. The image shows a prettily flared lower edge with some short-row shaping visible. It turns out that short rows shape both the upper and lower edges; the upper edge resolves into a soft ruffle that lies underneath the wearer's chin while the lower edge stretches to accommodate the collarbones and shoulders. The collar's central panel contains a medallion pattern flanked by narrow columns of fagoting." Knitters can find this pattern from Rebecca Blair in the July/August 2011 issue of PieceWork.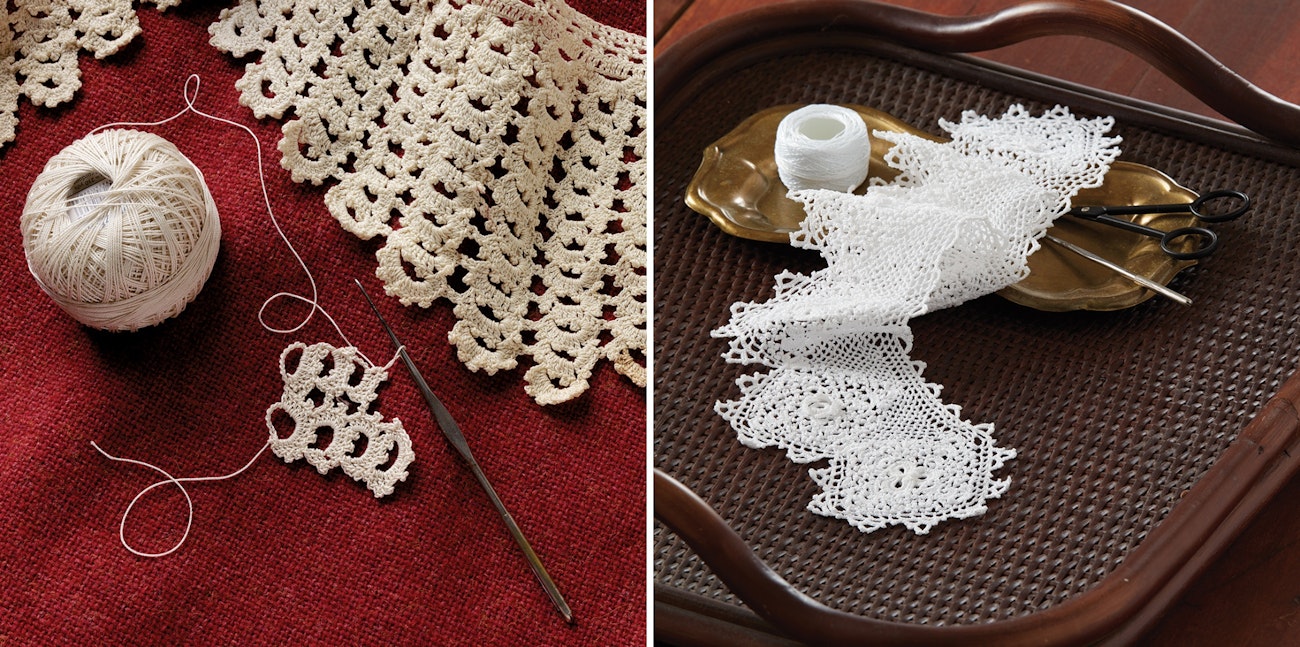 Welsh Lace Trim to Crochet by Toni Rexroat, PieceWork November/December 2012 (left). Photo by Joe Coca. A Clones Lace Collar to Crochet by Máire Treanor, PieceWork May/June 2017 (right). Photo by George Boe
Welsh Lace Trim to Crochet
"We asked Toni Rexroat to re-create the pattern from one of the pieces of lace brought to Oklahoma from Wales by Linda Ligon's mother's stepmother. Here is the result. The original pieces of lace were intended to be trim for petticoats. It will look equally as well on table or bed linens." The November/December 2012 issue contains this versatile crocheted pattern.
A Clones Lace Collar to Crochet
"The unique style of this beautiful lace collar was very popular in the Clones–Roslea area in Ireland. Rose and shamrock squares are joined with simple loops, known as the 'mitred style.' The pattern is inspired by the beautiful lace work of the Cruddens of South Fermanagh and Tessie McMahon of Scotstown, County Monaghan. Tessie inherited her beautiful neat lacemaking skills from her mother, Kate. Tessie's brother Pat made handmade crochet hooks, nicknamed 'famine hooks,' where the eye of a sewing needle was pared with a flint stone." This crochet pattern from Máire Treanor can be found in the May/June 2017 issue.
Are there other favorite lace collars from past pages of PieceWork that you love or have completed? Please share your photos and stories here.
Originally published September 25, 2020; updated October 10, 2022.