Weldon's Practical Needlework from the 1880's holds tremendous treasures for makers. The volumes cover a great range of crafts, from various types of needlework to knitting and crochet. However, the first reading of a pattern might be confusing. Here are some tips related to knitting and crochet for trying these Victorian classics.
Terminology
Abbreviations for both crochet and knitting are different. As the original publishing was done in England, the patterns follow UK standards. Hence, knitting needle sizes and crochet hook sizes are opposite when compared to the US designation. Socks calling for size 15 pins are equivalent to US size 00. A crocheted lace piece that calls for a number 10 hook, is a size D or 3.25 mm, not a J. To "work plain" is basic knit, and "make one" is really a yarn over. Crochet terms also change, as doubles in UK patterns are singles in US phrasing. A quick internet search will bring up several varieties of conversion charts and term comparisons to make this easier.
Try it out
Scrap yarn is your best friend! Several of the patterns in Weldon's lack diagrams or sketches to show the finished project. For these patterns a fingering or sport weight yarn that is durable and can withstand frogging is great to work with. The Fleur-de-lis edging from PieceWork Mar/Apr 2017 is what I call a blind knit. Only the instructions for the piece are given. Playing with these various patterns can be inspiration for current-day works. The same issue includes scarves that were created from Weldon's edgings. Keeping the swatches also can be the start of creating your own designs.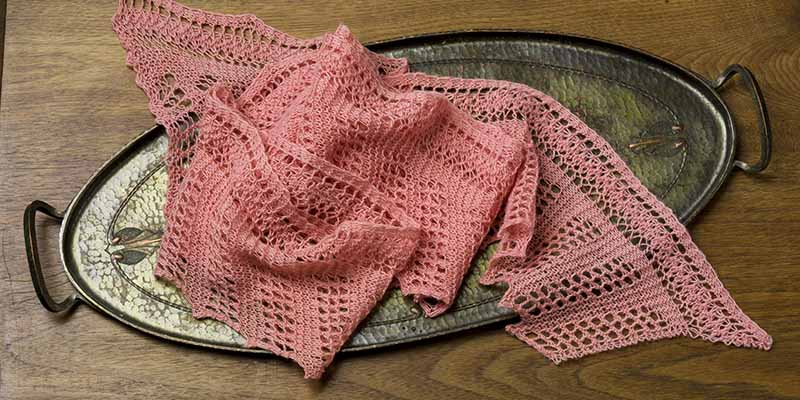 Forget your Fears
One of the biggest differences between the Weldon's patterns and those available in print today are the amount of instruction given. Today's patterns are precise with every detail laid out. Needle size, yarn used, and gauge are given to help the maker recreate the piece shown. Weldon's instructions lack some of this information, leaving more room for interpretation. If there is a pattern that grabs your eye, don't be afraid to jump into it. Try different yarns with various-sized needles to see what gives you the effect you are looking for. Block swatches and take notes on the process. Not only will you be interpreting history, you'll improve your skills at the same time.
Weldon's is a great collection of crafts from the past. Understanding the evolution of the language of craft over time can open up even more creativity for you from the reference collection.
-Katrina
Katrina King has yet to meet a fiber craft she doesn't like. Along with lace knitting, she also has crochet, weaving, spinning laceweight yarn, and tatting in her tool bag. You can follow her craft adventures at Threaded Dream Studio. When she's not crafting, she can be found teaching at her local yarn shops, reading epic fantasy novels, and chasing her daughters to various activities in and around Fort Collins, Colorado.