During my first semester as a post-graduate student at the University of Edinburgh, I went on an excursion with other international students to Loch Katrine. It was a typical Scottish autumn day, meaning the weather was alternately fine, overcast, and raining sideways—sometimes in the same ten minutes—so we took more time getting to the loch than actually touring. I passed on the opportunity to board the steamship Sir Walter Scott, instead choosing to walk along the loch's perimeter on pathways complete with guardrails to keep visitors from falling in. It was, despite the weather, a wonderful trip and my first real adventure in Scotland. Little did I know that I was following in the footsteps of Victorian tourists who embraced all things Scottish after reading Sir Walter Scott's Waverley novels.
Technological advances in the Industrial Revolution meant that by the early nineteenth century, travel was no longer just the purview of the extremely wealthy. The middle classes could now afford to travel, and they could do so in comparative comfort thanks to the railroad. Scotland (including Loch Katrine and its steamboat Sir Walter Scott) was one of the most popular destinations. Many British Victorians—including the royal family—made the modern concept of tourism possible through their visits to the country of Scott's novels.
The Romance of Scotland
Sir Walter Scott (1771–1832) was a Scottish advocate (lawyer) who made a name for himself collecting poetry and folklore from the Borderlands region of southern Scotland and northern England. In 1814, he anonymously published a novel called Waverley, now considered the first historical fiction in Western literature. It was a publishing sensation. Influenced by Scott's idealistic, romantic notions of fealty and the past—notions completely in line with Romanticism's themes—Waverley told the story of the 1745 Jacobite rebellion. Although the inhabitants of England greatly feared Bonnie Prince Charlie's invasion at the time, they found the novel utterly bewitching sixty years later. Although England and Scotland had shared monarchs since 1603 and parliaments since 1701, the two lands remained separate in many other respects. Readers south of the border knew little about their northern neighbors. Scott cast a pseudo-mythological glow on life and culture in the Highlands. Then as now, something about the world he imagined struck a chord with his audience.
That audience included members of the royal family: the Prince Regent (1762–1830, later King George IV) and the young princess Victoria (1819–1901, later Queen Victoria). George IV made Scott a baronet and, after his coronation, asked the writer to orchestrate a royal visit to Edinburgh in 1822—the first visit by a sitting monarch since 1651. Victoria, at the time subjected to the infamous "Kensington System" that allowed her few novels, did receive permission to read Waverley and then Scott's later works (known collectively as the Waverley novels, published from 1814 to 1832), also largely set in Scotland. There was no better endorsement than royal patronage, and soon Great Britain was mad for all things Scottish. Scott influenced far more than literary trends. Tartan—previously a fabric that, if seen south of the Highlands, indicated imminent fighting—soon became a mainstay of nineteenth-century fashion. Fabrics with interlocking stripes appear in endless fashion plates and surviving garments from the era; tartan fabrics remain a fashion staple to this day.
The Modernization of the Tartan
Scott also popularized the invented tradition of clan tartans, or patterns specific to a particular chieftain's family in Scotland. He erroneously thought leading families laid claim to unique color and stripe combinations, called a sett, just as English lords had created family coats of arms. (In fact, Scottish weavers chose colors based on locally available dyestuffs—or more expensive imports such as indigo and cochineal for the rare customer who could afford them—and created their own setts.) I believe Scott was referencing what he knew: regimental uniforms for Scottish battalions such as the Black Watch. But who could resist the romantic notion of clan tartans? Certainly not Scott or his English readers! They completely abandoned attitudes from the mid-eighteenth century, when acts of Parliament attempted to forbid traditional Scottish clothing. Soon after Waverley became famous, a commission in London created an official register of clan tartans and asked Highland chiefs to send in the pattern unique to their clan. After nearly a century of bad press, clan leaders were more than happy to comply with this new perception of themselves and their culture as heroic, and many sent in samples of whatever they had in the attic. Other clan tartans came from fabric manufacturers such as Wilson & Son of Bannockburn, who more or less invented designs for customers who read Scott's novels and then requested a pattern of their own. Tartan registries continued throughout the nineteenth century, encouraging the Victorian desire to collect and classify exotic curiosities—even from their own backyard.
Thus when travel entrepreneurs such as Thomas Cook began selling packaged railroad tours in the 1840s, Scotland was one of the most popular destinations. Victorian Britain had grown up on Scott's Waverley novels, and now technology made it possible to not only reach these areas of the island, but to do so comfortably and affordably. Loch Katrine, with a steamboat named to capitalize on Scott's popularity, became a popular destination in the nineteenth century (hence the paved walkways and guardrails on my own visit). Queen Victoria and Prince Albert built a Scottish retreat for themselves at Balmoral—further patronage of the country that sent tourism skyrocketing—for which Albert designed the most exclusive tartan in the world. Unlike the Royal Stuart or other public tartans, only the royal family or those to whom they give explicit permission can wear the Balmoral tartan to this day.
The wide availability of tartan fabrics changed fashion. A perusal of fashion plates from the nineteenth century shows that "fashion tartan" (a tartan that does not belong to any particular clan and is only used for commercial fashion purposes, once the register regulated and catalogued patterns) was extremely popular for dresses, shawls, and other items of clothing. Molly Gibson wore a tartan gown in Elizabeth Gaskel's Wives & Daughters that her Scottish father decried as "not a proper tartan at all." Other English novelists dressed their characters in tartan and plaid; the list includes Charlotte Brontë, Emily Brontë, William Makepeace Thackeray, and Charles Dickens. Americans also enthusiastically adopted tartans in the nineteenth century; museum textile collections preserve some beautiful examples. (Indeed, nowadays Americans might associate plaid fabrics with Southern belles as much as Scottish heroes, largely thanks to Gone with the Wind.) Even now, most films set in Victorian England will feature at least one tartan costume: watch any screen adaptation of A Christmas Carol and you'll see characters— human or Muppet—dressed in plaid. Sir Walter Scott successfully turned a once-infamous fabric into clothing fit for kings and queens.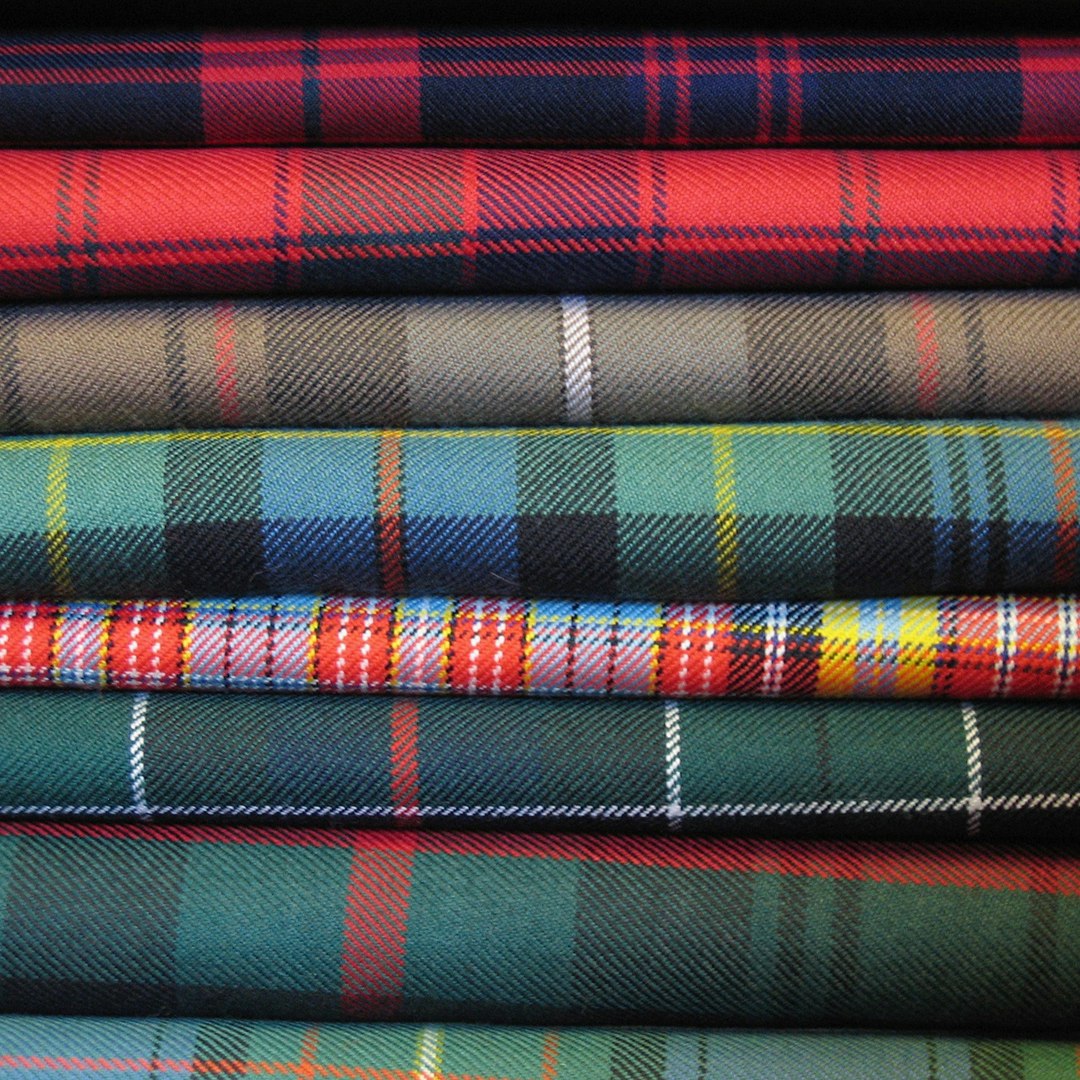 Photo by Henrik Hjortshøj on Unsplash
Tartans and All Things Scottish
Once tartan became synonymous with Scotland, everybody wanted to possess it in some form. The townspeople of Mauchline in east Ayrshire, the county of Robert Burns's birth, invented novel ways to send tourists home with something tartan. Using the latest technology, they came up with "Mauchline Tartan ware," a sort of industrial-grade papier mâché in tartan patterns that they used to produce some of the very first specially designed and manufactured souvenirs for tourists. These objects included cases in which to store books, reusable desk calendars, card holders, and (my particular favorite) a Tartan ware "wool holder," a round case that opened so a knitter or crocheter could place a ball of yarn inside, thread the working end of the wool through a small opening in the top, then carry it around while she worked thanks to a small strap that looped over the wrist. The user could also use the wool holder at home, as it has four little feet that enable it to stand when placed on a small table. It is charming to think that even in the earliest days of mass tourism, people wanted to take a small piece of their travels home with them. Many of these travelers must have been knitters to make this tartan wool holder worth the cost of mass manufacture.
Scott's Waverley novels created endless fascination with the country's history. These books changed perceptions of Scotland around the world and affected Scotland itself. Endless monuments throughout Edinburgh and the rest of Scotland bear his name or the names of his characters. The main railway station in Edinburgh is not named for the city or even the street on which it exits (Prince's Street, named for George IV when he was still the Prince of Wales); it is Waverley Station. And as you exit, the neo-Gothic Scott monument, built in 1844, towers above both the Prince's Street gardens that surround the station and Prince's Street itself. It's an unmistakable testament: one man's vision revived a culture that had been known as "Northern British" until his novels made it distinctly "Scottish."
Tartans at the Great Exhibition
Although people associated tartans with Scotland and wanted to see authentic examples of Highland weaving, they also purchased the new mass-produced tartan fabrics. (By the 1830s, Jacquard attachments made it possible for power looms to create complex color patterns and weave structures.) The place of tartan at the Great Exhibition of 1851 encompasses all these seemingly contradictory trends. George Augustus Sala (1828–1895), an aspiring artist and journalist in 1850, satirically envisioned that Scottish people and products to be shown at the exhibition would include a plethora of tartan. At the exhibition, Scottish firms proudly displayed clan tartans and occasionally extolled the craftsmanship of native artists in the Official Catalogue of the Great Exhibition. Yet cloth merchants and manufacturers displayed tartan fabrics made elsewhere, such as England, Ireland, Portugal, Germany, Austria, Canada, and France. Usually the catalogue simply lists these items without elaborating on how they were made.
Resources
Banks, Jeffrey, and Doria de la Chapelle. Tartan: Romancing the Plaid. New York: Rizzoli, 2015.
Cheape, Hugh. Tartan: The Highland Habit, 3rd ed. Edinburgh: National Museum of Scotland, 2006.
Edwards, Peter. "George Augustus Sala and His Panorama: The Great Exhibition 'Wot Is to Be.'" Fryer Folios 1, 1, pages 13–15.
Oliver, Neil. A History of Scotland. London: Weidenfeld & Nicolson, 2009. BBC Home Entertainment released a 10-part DVD series based on the book in 2010.
Scott, Sir Walter. Waverley (1814).
Interested in more history? This article and others can be found in the 2017 issue of Knitting Traditions.
Also, remember that if you are an active subscriber to PieceWork magazine, you have unlimited access to previous issues, including Knitting Traditions 2017. See our help center for the step-by-step process on how to access them.
Brenna A. Barks is a dress historian and material culturist focusing predominantly on Scotland. She received her master's degree from the University of Edinburgh, where she wrote a lot about tartan and created a truly terrible virtual exhibition that should never again be seen by man or beast. She works in academia and waxes rhapsodic about all things plaid on her blog Tartan Tinted Ramblings at www.brennaariel.com. Brenna is planning a book on Scottish dress history even as she contemplates pursuing a Ph.D.
Originally published September 6, 2021; updated September 4, 2023.